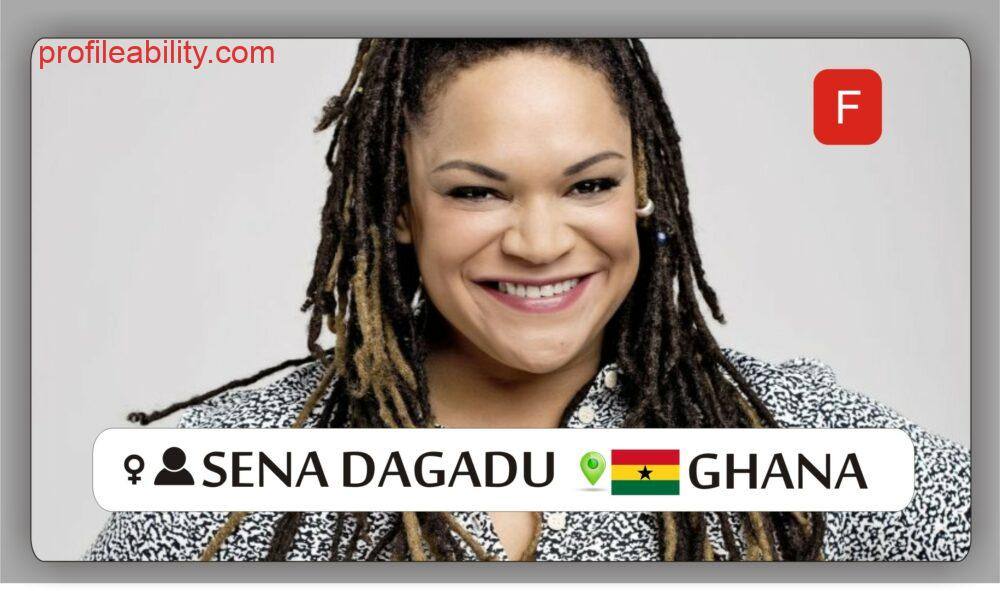 Dagadu Veronika Sena was born in Accra, Ghana, to a Hungarian mother and a Ghanaian father. She grew up in Accra with 2 siblings and a heavy dose of music. From the times of nursery school, Sena has been active in all kinds of creative activities including traditional drumming and dancing, poetry recital, acting, singing, and many more.
In primary school, she was already partaking in the writing and acting of school plays and performances. In secondary school she made a name for herself as the MC, and host of large school parties and events. All in all, it can be said that she has been onstage most of her life.
Sena began her musical journey in 2001 in Budapest, Hungary. A chance meeting with DJ Mango, DJ Bosi, and other well-known Hungarian underground hip-hop and dancehall DJs and MCs bloomed into a tight friendship and working relationship that was based around freestyle hip-hop. The crew then called Gimmeshot Crew, at the time ran a weekly dancehall, hip hop night in a local Budapest club. Microphones were passed around and anyone daring enough and good enough to shake the crowds was welcome. Sena immediately felt at home with them and this relationship gave birth to Sena's and Gimmeshot record labels' first release, "Sena First One."
The album became an instant success in the underground scene in Hungary and resulted in a boost of performances and live shows for the years that followed. Although the album was not distributed outside Hungary, it managed to reach hands and ears all over Europe and in Ghana. The tracks on the album were made by Hungarian producers and musicians including Modul aka Mango (of Gimmeshot Crew), Yonderboi, Zagar, Absolut, Polskie, Superbeat, Marcel , bands: Kamu and Skeg, and featured other guest MCs from the Hungarian underground e.g. Bobakrome, Busa, Kemon, Hibrid, Interfunk, Rapa and others.
The years following the album release saw Sena working with many musicians from many different genres, including the improvisational, abstract hip hop band Skeg, the Balkan funk jazz band Kamu, Dzihan and Kamien (Couch Records), DJ Cadik, DJ Vadim (BBE Records), EasyLifeNatural, Sabrine El-Hossamy (darbuka player from Turkey), DJ Spider, Colorblind All Stars, DJ Cadik, Irie Maffia reggae band, Dizko Stu and others. Sena at the same time was creating heat waves among musicians since she could blend into almost every kind of music that was given her. She often performs with DJs and bands on invitation, sometimes with a rehearsed lineup and at other times, just freestyling and improvising with her personal lyrics, poems and songs.
Although she never studied music in school, she has a trained ear and manages to respond and adapt to the sounds she hears. Hers is a truly original, self-taught style that makes her sound absolutely one of a kind.
After an almost ten-year-long period of working on several other projects, Sena Dagadu has taken a new step in her adventurous musical soul-searching with her second solo album. "The album is eclectic, but this is what it is, this is who I am right now." – says the singer about Lots of Trees. The songs on the album, which was recorded with several international contributors, feature elements of soul, R'n'B and hip-hop just like her first album First One did. But in the case of the new album, the diverse themes, lyrics revealing love of life and nature as well as a unique worldview, and the music springing both from African roots and the latest trends of contemporary pop music create an unprecedented unity.

FOLLOW SENA DAGADU
FACEBOOK: SENA TWITTER: @senadagadu
FOR BOOKINGS:
VO MUSIC : Tél: +33 (0)1 45 80 96 60
LATEST TRACKS:
LATEST MUSIC VIDEOS
#Official Music video by Sena Dagadu
LIVE STREAM