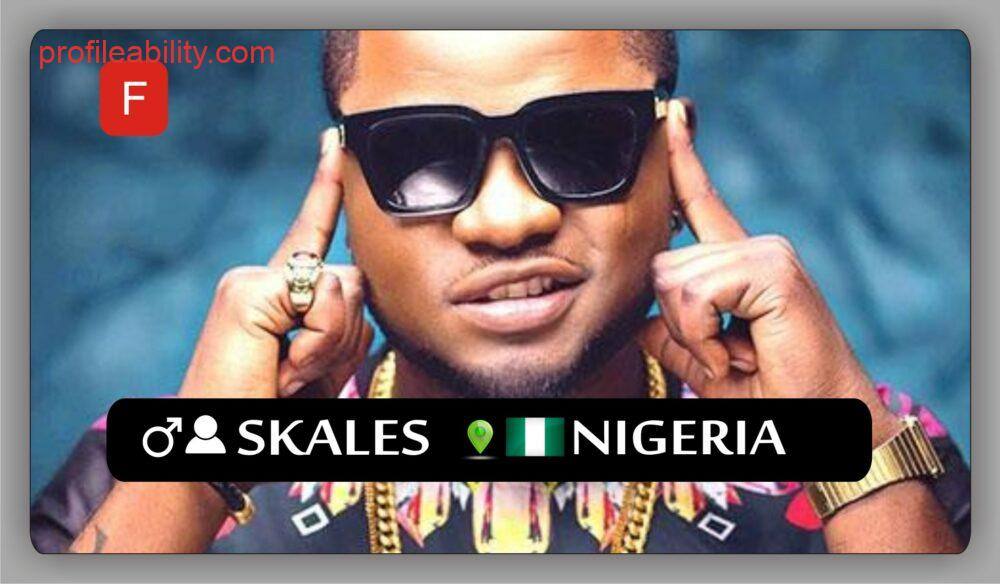 Raoul John Njeng-Njeng (born 1 April 1991), who performs under the mononym Skales, is a Nigerian rapper, singer-songwriter and performer.
In 2000, he started writing rap songs in Kaduna. Between 2007 and 2008, he traveled to Jos to work with Jesse Jagz and Jeremiah Gyang. In 2008, he entered the Zain Tru Search competition and won the competition's North Central region. His debut single, "Must Shine", received numerous spins on the Rhythm FM stations in Lagos, Jos, and Abuja. He later relocated to Lagos and signed a record deal with Empire Mates Entertainment in 2009.
Skales has recorded over 200 songs and collaborated with numerous artists, including eLDee, Jeremiah Gyang, Banky W. and Knighthouse. Some of his well known songs include "Shake Body", "Mukulu", "Keresimesi", "Komole", "My Baby", "Take Care of Me" and "Denge Pose". Skales established his record label, OHK Music, after departing from Empire Mates Entertainment in May 2014. Skales' debut album, Man of the Year, was released in 2015.
Skales signed a record deal with Empire Mates Entertainment after meeting Banky W. in 2009. He released the singles "Mukulu" and "Keresimesi" simultaneously. Both songs were produced by Sarz and released under the outfit. The music video for the latter was directed by Clarence Peters and uploaded onto YouTube on 28 November 2011.
Skales was one of the main acts on E.M.E's debut compilation album, Empire Mates State of Mind (2012). He collaborated with Banky W., Wizkid, Shaydee, Niyola and DJ Xclusive on five ("Baddest Boy", "Get Down Tonight", "Sun Mo Mi", "Ko Mo Le" and "Change") of the album's seven singles.
He also toured with some of the aforementioned acts on the EME US Tour, which kicked off on 4 July 2012 and ended on 2 September 2012. EME acts performed in several different cities, including Houston, Dallas, Toronto, Vancouver, New York City, Providence, Calgary, Atlanta, Washington DC and Chicago. Skales supported Wizkid on his tour of London in 2012.

On 17 October 2013, Skales performed at the 2013 edition of Felabration, a yearly concert dedicated to the late Fela Kuti.
In February 2014, The Vanguard reported that Skales left Empire Mates Entertainment following the expiration of his four-year recording contract. E.M.E executives felt they were not getting remunerated for investing in him and refused to renew his contract.
OHK Music establishment
In May 2014, Skales established his own record label, OHK music. The label is home to producer Drey Beatz and has affiliations with other music personnel within Nigeria.
On 6 May 2014, Skales released "Shake Body" as the first single from his upcoming album. The song was produced by Jay Pizzle and its music video was released on 22 July 2014 onto YouTube. Skales promoted the song by announcing the Shake Body video competition.
It was reported that Skales signed a record deal with Timaya's Dem Mama Records following his departure from E.M.E. In February 2014, Skales debunked the reports and said that he didn't sign with Dem Mama Records.
FOLLOW SKALES
FACEBOOK:  Skales TWITTER: @youngskales WEBSITE: www.skalesmusic.com
FOR BOOKINGS:
EMAIL: bookings@upgmc.com | TEL: +234903 111 1111
LATEST TRACKS:
LATEST MUSIC VIDEOS:
#Official Music videos by Skales
LIVE STREAM