'Hola' to our cherished visitors and subscribers; as long as we want to keep this platform running and clean for users, our main aim is not to burden user with pop-up (non-sense) ads . Our interest of achieving more than 1000 visitors per day has been achieved, with high maximum of returning visitors.
To support the running of ProfileAbility, we give advertisers the chance to advertise their products and services. We put first class priority on advertisers ads by  making sure they are visible on top of every artiste page.
For Eg: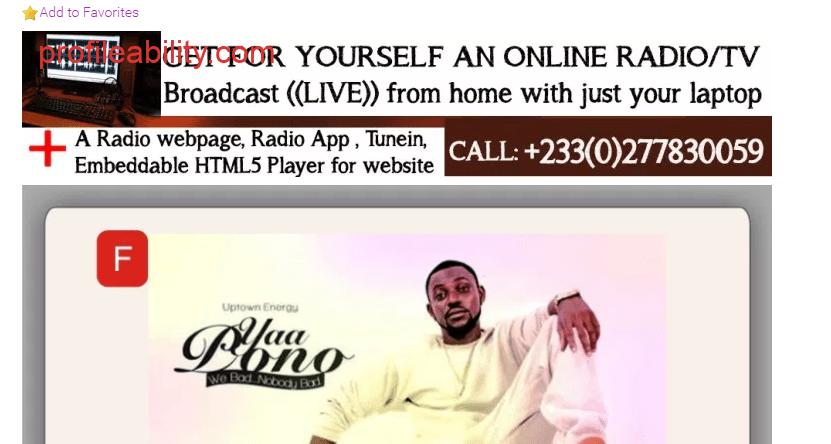 Ad Placement on www.profileAbility.com
300×100 ad banner (Sidebar, All pages)   = GHS130 ($60) per month
300×250 banner (Sidebar, all Pages) = GHS400 ($120) per month
120 x 600 ad banner (Sidebar, All pages) = GHS500 ($250) per month
728 x 90 ad banner (HomePage ONLY) = GHS300 ($150) per month
728 x 90 ad banner in header section (ALL pages) = 900 ($400) per month
DAILY PLAN
728 x 90 ad banner in header section (ALL pages) GHS35 ($15) per day
We will create the ad section for you once you confirm payment.
Text Ads
Contact us for more info about the text ads.
 All Ad banner display on all post pages on the platform
==> The 798×90 ad banner can be below the navigation bar or om top of the page.
== > You can run your ads for a few days if you plan it on a short term.
==> If you opt for the 798 x 90 and 120 x 600 ad banners, We will also promote you via TRENDS on Facebook and on Twitter and also through our Online radio #HITSAFRICA. You also get FREE ad slot on our blog section.
You can  call/pay via
MTN Mobile Money Account: (+233) 544784444
For more inquiries, please email:
support@profileability.com
🙂 Thank you for supporting ProfileAbility and we hope you make it your daily home of listening and discovering talented African Musicians.