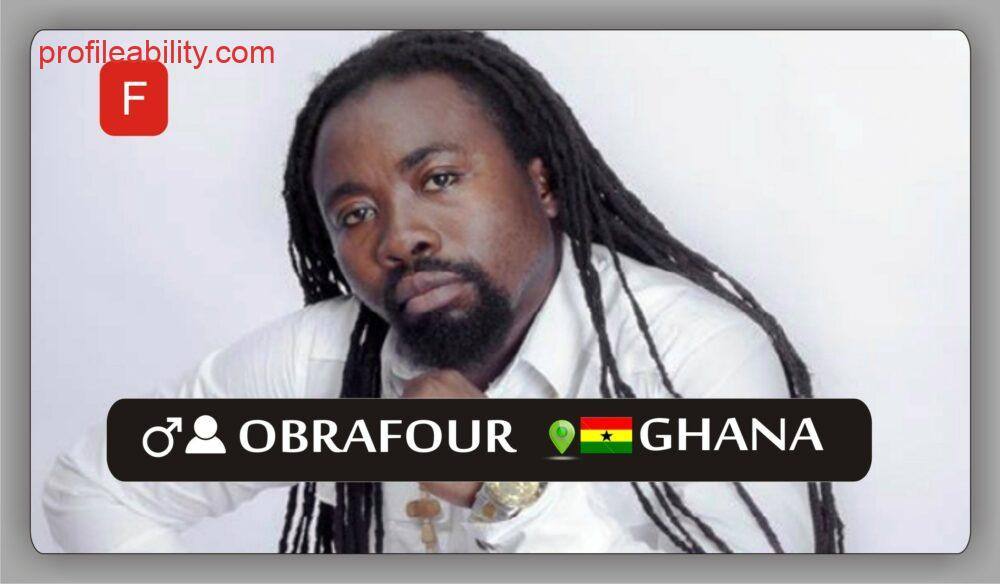 Michael Kwabena Okyere Darko known by his stage name as Obrafour is a Ghanaian rapper who hails from Kwawu in the Eastern region. Obrafour means Executioner in Akan. Michael Kwabena Okyere Darko is dubbed Ghana's rap sofour (priest) and owns the Execution records label.
He grew up in at Kwawu and left to Accra when he was 5. He attended New Star Preparatory and then Abetifi Secondary and St. Peter's Secondary School. He dropped out after one term after his mother died. As a child, he sang at church with his mum. He had formed a quartet which sang gospel songs. He had dreams of becoming a lawyer when he was young.
Influenced by Reggie Rockstone and the emergence of the hiplife genre, he decided to take up hiplife. He began attending various auditions and performances. His performance was at a programme held at Secaps Hotel where he caught the attention of Radio Gold's B.B. Menson. He eventually struck a chord with Edward Nana Poku Osei aka Hammer (of the Last 2 together with Yaw Anoff 'Deep'). Hammer was an amateur beatmaker who had not taken the music business seriously until he met Obrafour. From Hammer's own words, they 'clicked'. For Obrafour and Hammer (the Last 2) fans, the rest is history.
Hammer helped Obrafour secure a deal with Abraham Ohene Djan (OM Studios) and in late 1999, Obrafour's first album, 'Pae mu ka' was produced and distributed. The album was an acclaimed success and a breadth of fresh air on the music scene. One of the songs, 'Kwame Nkrumah' paid a resounding tribute to the Osagyefo and encouraged Ghanaians to unite and work for the best of the country. The album, considered to be the best hiplife album ever, enjoyed a lot of airplay that to this day, the intro and outro tracks are still played during radio programmes.
In 2001,Obrafour released his second album, 'Asem sebe' which was also very successful. He went back to his first love and did Ghana's first ever rap gospel song called EnyE Nyame a. Obrafour sought the assistance of other beat makers than Hammer and had a few songs with the highlife vein. He proceeded to do a maxi single album dedicated to his late mother, Mrs. Gladys Agyapomaa. The album featured Tic Tac and Yoggi Doggi on a remix. To this day, 'Maame' is a Ghanaian music favourite that rules the airwaves each Mother's day. The album also had a song he did jointly with Tic Tac for Ashfoam which was very successful.
His third album, Time Out for Adhesion (TOFA) came out in 2003. In this album, Obrafour's love for singing is heavily noticed along with many highlife songs. His fourth LP, NteteE Pa, came out in late 2003 with a number of remixes from the TOFA album. The lead single, however, was Nya NteteE Pa (Be disciplined) which coincided with his effort to join Ghana's vice president to fight indiscipline in the country. It was voted by the song of the 2003 by Joy FM listeners and Obrafour's legend was magnified. He started his own indiscipline campaign which targeted the youth mostly even though he had advice for everyone (from ministers and musicians to taxi drivers and pastors). His Platinum Project on indiscipline was divided into two main segments; the Lecture/Counselling Workshop and the H.E.L.P (Hiplife Education and Literacy Project) Ghana initiative.

In 2004, Obrafour decided to use his record label, Execution Entertainment (which had been responsible for his last three albums) to expose new talents on Ghana's music scene. He produced 'Execution Diary' with the help of Hammer which was the first major compilation album involving hiplife artistes by another hiplife artiste. The LP had songs which introduced relatively new 'hiplife foot soldiers' like 'Oye nonsense' by Kwaw Kese, 'Ntakaa' by Hot Core, 'Susu dwen me ho' by Dogo and further enhanced the careers of Tinny with 'Heko Ejorko' (I believe I can fly), Okyeame Quame with 'Opabeni', 4×4 with 'Kpekpele' and Yoggi Doggi with 'Ye ne saa ma me'. 'Oye Nonsense','Heko ejorko', 'Opabeni' and 'Kpekpele' all enjoyed massive airplay and were on Ghana's 20 biggest hits at one point in time.
His fifth album, Heavy, was released in 2006. It gained massive airplay and featured Kanda Bongo man on Aunti Akosua Ba.
Obrafour has been praised for his lyrical prowess and has stated that he wants to be the most decent lyricist ever out of Ghana. He has also a clothing line, OB4.
Some of his songs are Agoro no aso, Kokonsa, Ma mendwen me ho, Asem sebe, Who born you by mistake, Odo, Enye Nyame a, Okukuseku, Oye Ohene, Adefoode, Nyamekye, Ebehyehyew, Sete, Akokonini, Obaa bi, Odo amaa, Oyonkour, Mensesa, Monfa nsa, Kae me, Odo nsuo, Aunti Akosua ba, Wote puupuu, Fakye me, African boy, etc.
FOLLOW OBRAFOUR THE EXECUTIONER ON:
FACEBOOK: Obrafour  TWITTER: @iamobrafour
FOR BOOKINGS:
Call: +233 0267661177 | 024 492 9212
EMAIL:obrafourmusic@gmail.com
LATEST TRACKS:
LATEST MUSIC VIDEOS:
#Official Music videos by Obrafour
LIVE STREAM