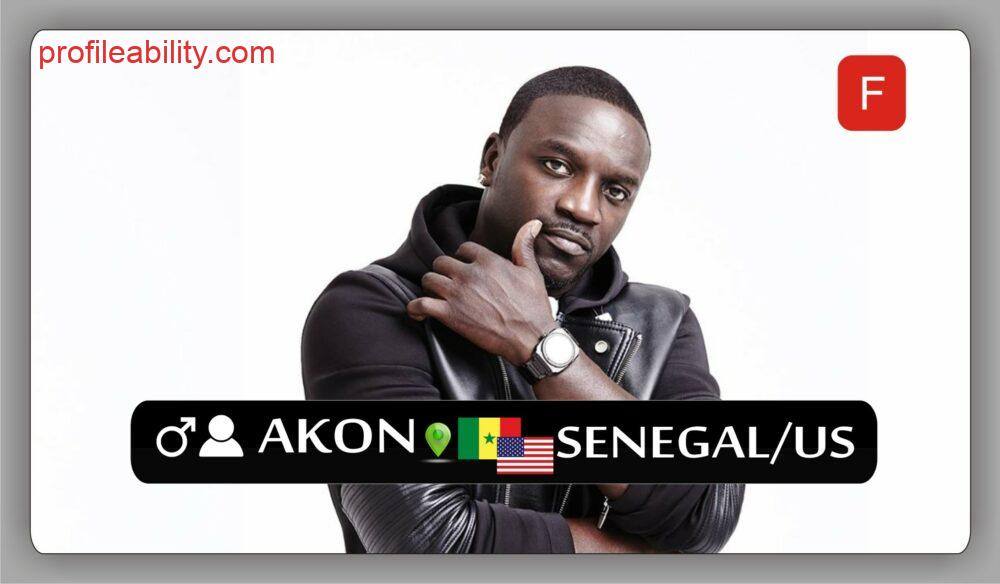 Akon, born Aliuane Badara Thiam on 30.4.1973 is a Senegalese / American hip-hop songwriter/singer and producer. He rose to fame when his single `Locked Up' was released in 2004. He is the only artist to ever achieve the number one and number two spots simultaneously on the Billboard Hot 100.
Childhood: Born in Senegal, Akon was raised in a musical environment and learned to play several instruments. Aged seven, he moved to New Jersey, USA.
Akon allegedly spent time in jail and it is reportedly here that he developed an understanding of his musical abilities and an appreciation for his background. Upon his release, he immediately started to record his music and send out demo tapes. Most of his songs begin with the clanging of a jail cell and Akon saying the word `Convict.'
Musical Career: As soon as you hear Akon's voice, you know it's him!
His shimmering, soulful voice has propelled countless hits across genres—from pop and R&B to hip-hop and dance. In addition to his own chart-­‐dominating singles "Smack That" and "I Wanna Love You", he's made a staggering 300 guest appearances for icons including Michael Jackson, Lady Gaga, Gwen Stefani, Lil Wayne, R. Kelly, and Eminem. With over 35 million albums sold worldwide, five Grammy Award nominations, and 45 Billboard Hot 100 songs under his belt, he's simply unstoppable.

 Akon's music is a mix of West-African style vocals, along with both East Coast and Southern-style beats. His solo album was released in 2004. Trouble generated the singles `Locked Up,' `Lonely' and `Ghetto,' among others. `Locked Up' was allegedly inspired by a three-year jail term that he served for committing grand theft auto. The song reached the top 10 in the US and the top five in the UK.
The song `Ghetto' became a hit when it was remixed to include verses from 2Pac and The Notorious B.I.G.

Between 2006 and 2007, Akon had eleven songs on the Billboard Hot 100. His second album, Konvicted was released in November 2006. The album contained collaborations with Eminem and Snoop Dogg.
Akon achieved his first solo number one on the Billboard Hot 100 with the single `Don't Matter.'
Konvicted had sold more than a million records in the US in its first six weeks of sale. It stayed in the Billboard 200 album chart's Top 20 for 28 consecutive weeks.
In 2006, `Smack That' was nominated for Best Rap / Sung Collaboration at the Grammy Awards.
Personal Life: It is alleged that Akon has three wives. He is a Muslim, and polygamy is legal under Islamic law.
In 2007, Akon's criminal past scuppered his plans to tour in Australia, as he was refused a visa.
Akon's manager, Robert Montanez was shot to death in December 2005. The drive-by shooting happened in New Jersey. Akon was in the car and was shot in the shoulder but made a full recovery.
In 2006, Akon launched his own label, Kon Distribution, which is a part of Interscope Records.
Other collaborations that Akon has undertaken include an appearance on Gwen Stefani's album Sweet Escape; working with Chamillionaire on his Mixtape Messiah 2 compilation and featuring on Bone Thugs-n-Harmony's Strength Loyalty album. In 2007, Akon recorded a new mix of Michael Jackson's `Wanna Be Startin' Somethin'.' The new version of the song charted in the top 10 in most countries around the world.
Akon has launched his own Konvict Clothing line, featuring streetwear such as jeans, hoodies, and t-shirts. An upmarket version named Aliaune features blazers and smarter wear.
Akon courted controversy in 2007 when he was filmed in a Trinidad & Tobago club, simulating sex with the 15-year-old daughter of a local preacher. Later that year, at a concert in New York, he threw an audience member back offstage and into the crowd, after the young man had been identified as the person that had thrown an object onstage at him. Following a police inquiry, Akon claimed that the event had been staged.
There are claims that Akon's criminal past has been significantly over-exaggerated. He has apparently been convicted of a single felony (possession of a gun), for which he received three years' probation. He also spent several months in jail for stealing a single BMW. The prosecutors dropped all charges against him.
FOLLOW AKON ON
FACEBOOK:AKON TWITTER: @Akon INSTAGRAM: akon 
FOR BOOKINGS:
EMAIL: Live@Konlive.com
LATEST TRACKS
LATEST MUSIC VIDEOS
#Official Music Videos & Performances by Akon
LIVE STREAM
Save
Save