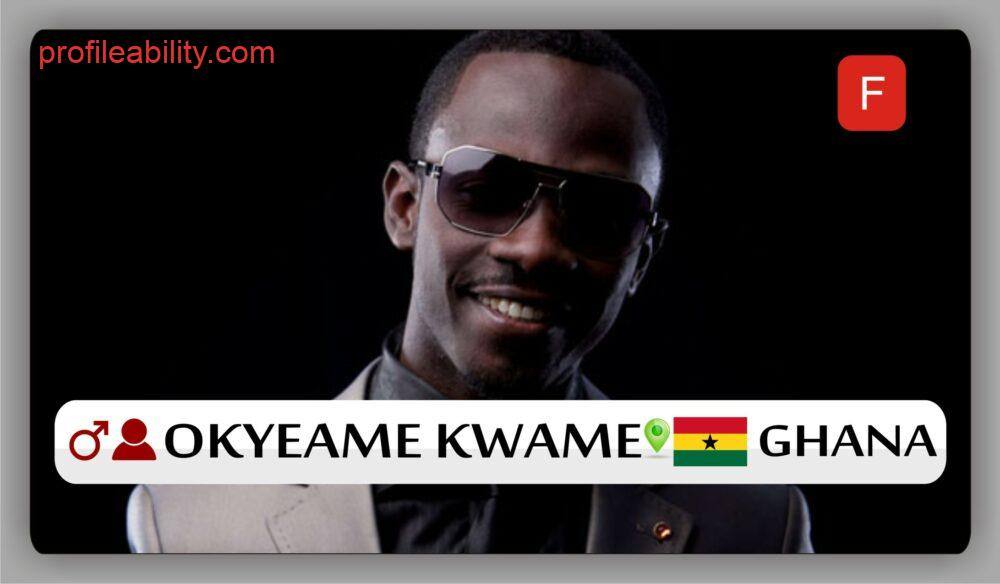 Kwame Nsiah Apau (born 17 April 1976), known by his stage name Okyeame Kwame and nicknamed Rap Doctor, is a Ghanaian musician, songwriter, creative director, and entrepreneur.
He is a Master Lyricist and Universal Linguist, also the Creative Director and Owner of One Mic Entertainment, He graduated from the Kwame Nkrumah University of Science & Technology, studying linguistics and specializing in Classical Guitar.
O.K as he is also called is a Happy husband, and proud father combined in his career as an enigmatic entertainer. He was part of the Akyeame duo which won the first Hiplife award in Ghana.
Building a consistent brand image is one of Okyeame Kwame's most precious assets. He has been in the music industry for 15 years and remains relevant in changing markets.
In 1997 he achieved notoriety as a member of the "Akyeame" hiplife duo, together with fellow Ghanaian Daniel Kofi Amoateng (under the stage name Okyeame Kofi). They recorded together the albums "Nyansapo" ("Witty Knot", 1997), "Nkonsonkonson" ("Shackles", 1998), "Ntoaso" ("Continuity", 2000), and "Apam Foforo" ("New Testament", 2002). He performed solo under his own record label One Mic Entertainment, in Accra since they parted in 2004. He also featured renowned Ghanaian highlife and hiplife artists such as Daddy Lumba, Kojo Antwi, and Ofori Amponsah.
For declaring himself B.R.A (Best Rapper Alive) in a song he recorded after winning the Ghana Music Awards Artist of the Year award in 2009, Okyeame Kwame sparked a conflict with fellow Ghanaian rapper Obrafour, who saw himself more deserving. This resulted in one of the most memorable feuds the Ghanaian music scene has seen, with Obrafour challenging Okyeame Kwame to a rap battle on the streets which was never honored.
In 2011, after Obrafour had apologized for his actions Okyeame Kwame explained he declined Obrafour's challenge because there was no need for it at the time, as winning Artist of the Year was vindicative enough.

Okyeame Kwame has contributed his due to education and the promotion of scholarship, his rap lyrics (which incorporate didactic themes, social consciousness, and poetry) being studied in some Ghanaian universities.
Okyeame Kwame is also one of two HipLife musicians whose poetry and music are studied at Universities in Ghana.
Social Responsibility
Currently the Ghana Health Ambassador, Okyeame Kwame has for four and half years now embarked on philanthropic activities. He has founded the Okyeame Kwame Foundation, a non-governmental organization to administer free Hepatitis B screening, educate, counsel, and create awareness about the disease using entertainment.
He is subsequently building a hepatitis B centre at Tamale where the prevalence rate is very high to help eventually eradicate hepatitis B from Ghana.
An Entrepreneur
Okyeame Kwame is a partner in a shoe manufacturing company in Ghana called Horseman Shoes which is doing well so far. He has come out with his own designs for his shoe line called OK by horseman which will be outdoors later this year.
FOLLOW ARTISTE ON:
FACEBOOK: Okyeame Kwame  TWITTER: @Okyeamekwame OFFICIAL WEBSITE: www.okyeameekwame.me  INSTAGRAM: okyeamekwame
FOR BOOKINGS
Contact: annicasirsante@gmail.com | Whatsapp +233544355777
LATEST TRACKS
LATEST MUSIC VIDEOS
#Official Music Videos and audio slides  by O.K
LIVE STREAM