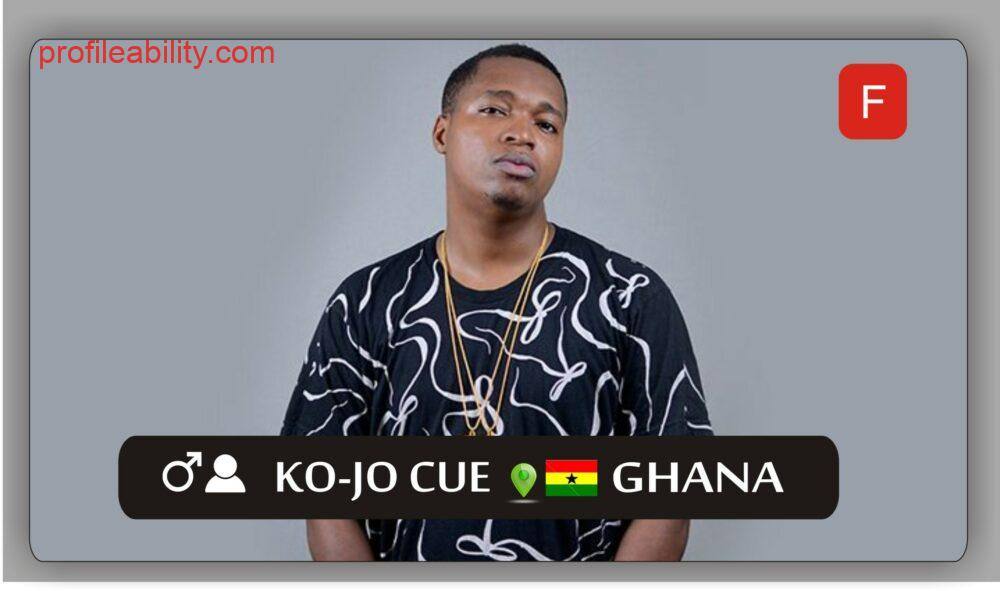 Ko-Jo Cue real name Amankwaa Linford Kennedy was born in Adum, a suburb of Kumasi.
The artiste was raised by his grandmother in Bantama (another suburb of Kumasi). Growing up in a house filled with his entire extended family and sleeping in a room with 5 cousins, an auntie and his grandma, the values of the family were instilled in him at an early age.
At age 9, he was exposed to rap music when his cousin Rebel (who was an amateur dancehall artiste) introduced him to the first album by Hiplife artist Obrafour. He wrote the lyrics to a particular track (Aden) down and learnt to recite it. After succeeding, he decided to start writing his own rhymes as a means to escape his surroundings and share his thoughts with the world.
However, he started taking music seriously as a career in Senior High school when he formed a group with another aspiring rapper named Wrong Medicine and got introduced to Pocalos Recording Studio where he honed his skills by watching other people record and occasionally working his way into features with other people's demo recordings because he couldn't afford his own recordings.
In 2009, he met two aspiring musicians K-Wu and Kuul D (together known as Soulbrothaz) who introduced him to Macfancy, a 3rd-year pharmacy student at KNUST who made beats in his spare time. The two hooked up and started recording in a bedroom studio owned by a fellow Nigerian student called Okechukwu a.k.a Drillmeister. Macfancy made the beats and mixed the recordings afterwards. The two will go on to record over 10 songs (some of which made it onto his first mixtape) and Ko-Jo operating under the name Jazzy Flo posted the songs on his Facebook and ReverbNation page, attracting the attention of the C.E.O of Primitive Music who offered the young up-start a deal.
Under the guidance of Tallal Sangari a.k.a Tee, Ko-Jo Cue adopted his new moniker and started a journey to discover himself as an artist beginning with the release of his first mixtape.


2010 – 2011 Growing Pains
In January 2010, Ko-Jo Cue released the first instalment in a series he titled 'Growing Pains'. The project which was titled 'N.A.T.H.A.N' attracted the attention of the online community on Facebook as well as the major Ghanaian blogs and websites most notable amongst them being Ghanamixtapes and BigXGh.
It was the first project of its kind by a Kumasi artiste and garnered him regional recognition. Within the space of three months, he added two more instalments 'N.O.N.A' and 'Now And Forever' with the latter earning him respect amongst the Ghanaian Hip-Hop community and the former spawning his first viral hit with a track titled 'HeadNod' produced by Peewee.
The song made it onto radio rotation in his hometown and even caught the attention of Bradez and Okyeame Kwame (two of the biggest acts from his hometown as at that time). He then took 2 more months to release the last instalment in the series which he titled 'The Wait'.
The buzz generated by 'HeadNod' attracted artists out of his region and soon he found himself working with acts like Kay-Ara, Klu, Loonee, Lyrical Wanzam and Kwasi Trigga. He also worked on a cover with Flowking Stone (one-half of the Bradez). He kept his visual appearances minimal but managed to gather quite a cult following which expanded as he collaborated with more artistes outside his region.

2011 – 2012 Before We Shine
In January 2011, Ko-Jo Cue released Before We Shine and solidified his status as an underground king and earned a spot as one of Kumasi's top 5 rappers. The project which featured acts like Trix, Kay-Ara and Klu with production from Macfancy, Peewee, Kid Ziggy and Kuvie earned him two viral hits with the songs 'My Life' (which earned rotation on DW radio) and the fan favourite 'E No Be Say'.
He performed at the maiden edition of the Asabaako Music Festival alongside Yaa Pono, Wanlov and Kay-Ara. He was also brought on stage by Flowking Stone at a Vodafone street carnival in Asokwa-Kumasi.
In March 2012, he released 'Winning' as the first single for the second instalment of Before We Shine. The song which was produced by Klu became the leading trending topic on Ghanaian Twitter for four hours earning over 10,000 downloads in a week. It also received rotation on national radio.
In June 2012, he released his first-ever visual for the single titled 'The Flood'. The video was directed by General Jay and received rotation on various national television stations eventually landing on Channel O.
In October 2012, he released another single titled 'Lie Ben' which featured Asem to commercial acclaim. The song served as his first radio hit surpassing 'HeadNod' and 'Winning' in downloads and radio rotation. He also announced the release date for the second instalment of Before We Shine.
2013 Before We Shine 2
In January 2013, almost a year after the release of its first single, Ko-Jo Cue released the sequel 'Before We Shine 2: The Cremation of Care to both critical praise and commercial appeal. The mixtape which had 16 tracks (plus 2 bonus tracks) featured artists like Stone (Bradez), Edi-Young, Klu, Cabum, Kay-Ara and Trix. Production duties were also handled by Klu, Kid Ziggy, Kuvie, Alberto, Cabum and Peewee.
The buzz generated by the mixtape led to him being covered by most of the major Ghanaian entertainment newspapers. The 'Communicator' dubbed him as 'A Star in the making whilst the 'Business & Financial Times Weekend' called him 'the voice of the new generation'. News One and Graphic Showbiz also covered the young upstart enabling him to reach a wider audience.
The media coverage didn't end there as the video for the second single of the mixtape 'Aden Koraa' received regular rotation on the major television stations in Ghana. He was interviewed on Rapcity for GTV, appeared on 'The DJ Black Cypher' which aired on Viasat 1 and he was also interviewed by many of the major radio stations.

2014 BBnZ & The Shining
After releasing a viral hit song called 'Corolla Music earlier in the year, Ko-Jo got signed to the BBnZ label in June. Joining the likes of E.L, Lil Shaker and Qweci Oteng, his first appearance as a signed act was at EL's The Bar Concert.
On 29th September 2014, Ko-Jo released his 8th mixtape 'The Shining' to great reviews from critics and fans alike. The tape which many believe is his best work yet featured mainstream acts like E.L, M.anifest and M3nsa. It also had cameos from upcoming acts like Blackway, Eli, Trebla and Klu. The project became a trending topic on twitter (in the Ghana area) for a whole week and has so far amassed upwards of 20,000 downloads.
FOLLOW KO-JO CUE
FACEBOOK: Ko-Jo Cue TWITTER: @KOJO_cue WEBSITE: www.kojocue.com
FOR BOOKINGS:
Phone: +233 (0) 24 546 7837
Email: ticghana@gmail.com
LATEST TRACKS:
LATEST MUSIC VIDEO:
#Official Music video by Ko-Jo Cue
LIVE STREAM