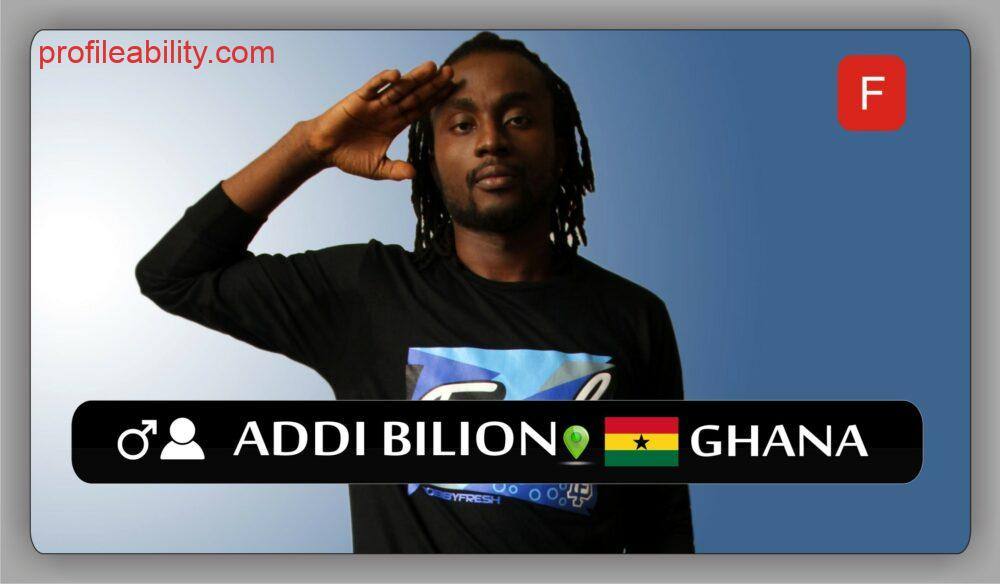 BIOGRAPHY
Addi Bilion was born and nurtured in Mamprobi ,Born Abdulai Bill,he discovered his music career whilst still in Kwashieman, Accra.  In the year 2012 he formed a music crew called 'HonHom' which included talented artistes such as 'Asuokye', 'Ayoba' and 'Soul eye'.
Addi Bilion upon retracting experience with his group dissolved it a year later after being advised upon.
He re-branded himself and started rebuilding his music career in 2013 releasing his first  ever single 'Agoro' ft. Keche , this hit release was followed with 'Maga' which was followed with its music video.
From the year 2013-2014, Addi had then began working with Brainwork Entertainment a.k.a "eyoh_ soundboy' record label.
He formed a movement called 'Speed up Section' in 2015 after parting ways with  Brainwork Entertainment.
His further relentless effort landed him with a hit track 'worlebo' , which also happen to be his first solo hit single produced by King Dee.
Addi Bilion had also had a collaboration called 'them called' which did set him to discovery and signage from Accra Stay By Plan (ASBP) where he did record "Maga Remix ' ft. Luther. But being a young Dancehall artiste he was faced with challenges from the stringiest outcomes.
ASBP did put a lot of restrictions on the artiste life such as non-promotion and non-recording rules.
The year 2015 saw Addi Bilion going solo. Currently unsigned to any record label he has currently released 'Dream and Pray' success rhythms mixed by King Dee and instrumental by Javi Beats.
DEATH
According to a report sighted by YEN.com.gh on AmeyawDebrah.com, Bilion was involved in a car accident on Thursday, January 24, 2019. 
FOLLOW ADDI BILION ON:
FACEBOOK: Addi Bilion TWITTER: @Biliongh  INSTAGRAM: addibilion
[srizonfbgallery id=105]
Sharing is Caring:
FOR BOOKINGS:
EMAIL: bilionsghh@gmail.com  CONTACT: +233244832611
LATEST TRACKS:
Sharing is Caring:
LATEST MUSIC VIDEOS
#Official Music videos by Addi Bilion
Sharing is Caring:
LIVE STREAM
Follow @Biliongh
Tweets by Biliongh
Save