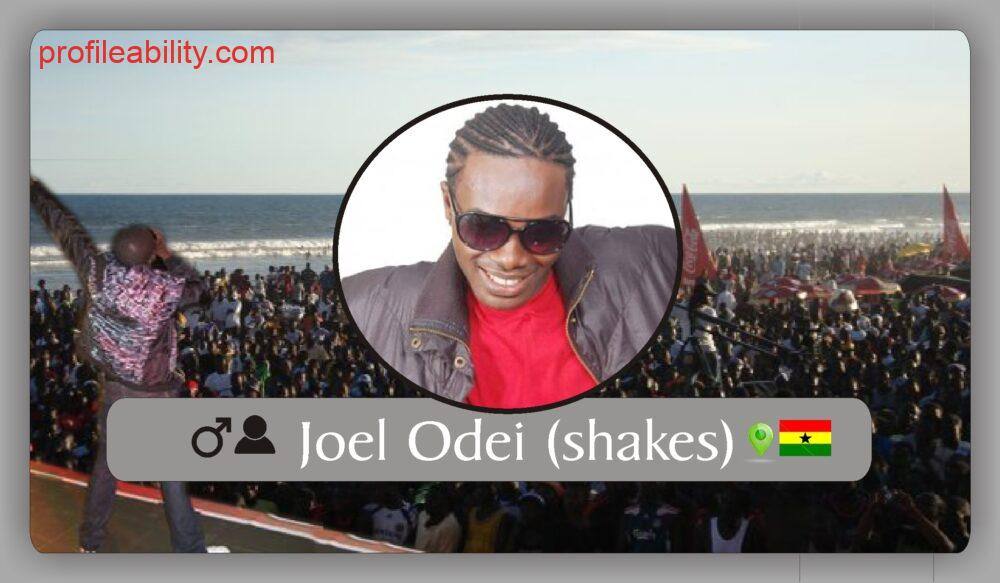 [insert-html-here 4]
Shayxxes (also referred to as Slim Shakes or It's Shakes) is a Ghanaian musician, songwriter, poet, entertainer, and choreographer.  Born Joel Apau Odei to Sarah Djanie and the late William Odei at Teshie Nungua Estates, a suburb of Ghana's capital, Accra on the 9th of June,1984. He is the first of four children from his mother's side and the first of two from his father's.
Many Ghanaians recognize him as one of the rare talents who combines rap and dance to his craft. He is also considered a patriot as his first-ever single "Black Star shining straight from Ghana" made it to the top 10 out of over 10,000 entries in the Metro TV Cheer Song Contest in the year 2010. Others also see him as a motivational speaker and a humanitarian.
Shayxxes possesses various music styles which make him very versatile. He is however more inclined to Hip Hop/ R&B/Soul and often raps and sings in English blended with his native languages Twi and Ga.
Currently unsigned, Shayxxes' life has been about believing in his dreams and working hard to achieve them.
With a powerful imagination, creativity and a gift with words marrying and mating and birthing good music, he reaches to the depths of his talents and presents them to the world. By placing checks from the notepad to the CD, he brings to his fans his unique brand and quality.

"When you allow rhythm, melody and passion to take over your body and direct its movement, you don't end up with just a dance, you create an experience, and that's what I give to you when I perform- The Shakes Experience."
Shayxxes started writing the moment he learned to hold a pencil and was crowned the 2nd best junior writer in his first year at high school, Mfantsipim School, the same place he got the name "Shayxxes" which is actually the short form of Shakespeare, a name reserved for the best in English language and conferred on him by his classmates due to his depth with words and rhyming skills.
He is the proud author of over 500 love poems which he hopes to publish in the nearest future.
He has written several songs and has had the opportunity to work with various musicians in Ghana and abroad.
He won the second-best Michael Jackson Look-alike in 2002 and has since then choreographed a number of groups and individuals alike. He is the founder and leader of the NO LIMIT KREW, the first runners-up to HIGH SPIRIT of the Malta Guinness Street Dance Championship in the year 2010 and has shared the same stage with Kwabena Kwabena, Stonebwoy, Samini, Kaakie, Okyeame Kwame, Wutah, Guru, Tinny, Method Ranking, Ginger Man, Fire Stone, Dadie Opanka, Nana Boroo, Pope Skinny, Joey B, Pappi Kojo, Black Kat,  Praye, Yaa Pono among others.
Shayxxes is currently working on his debut album and some songs off the album are already on sale in various digital distribution stores including iTunes, Amazon, and Spotify.
Shayxxes stands for good music and great stagecraft …he is the kind of artiste you do not only 'watch' performing, you "experience" him in all aspects of the world.
Follow Shayxxes.
Facebook, Twitter, Soundcloud, ReverbNation, Myspace, Youtube
For booking purposes only.
EMAIL: teamshakes@gmail.com
 MUSIC TRACKS
MUSIC VIDEOS
Official Music Videos by Shayxxes
LIVE STREAM
Follow @slim_shakes
Tweets by slim_shakes
Save