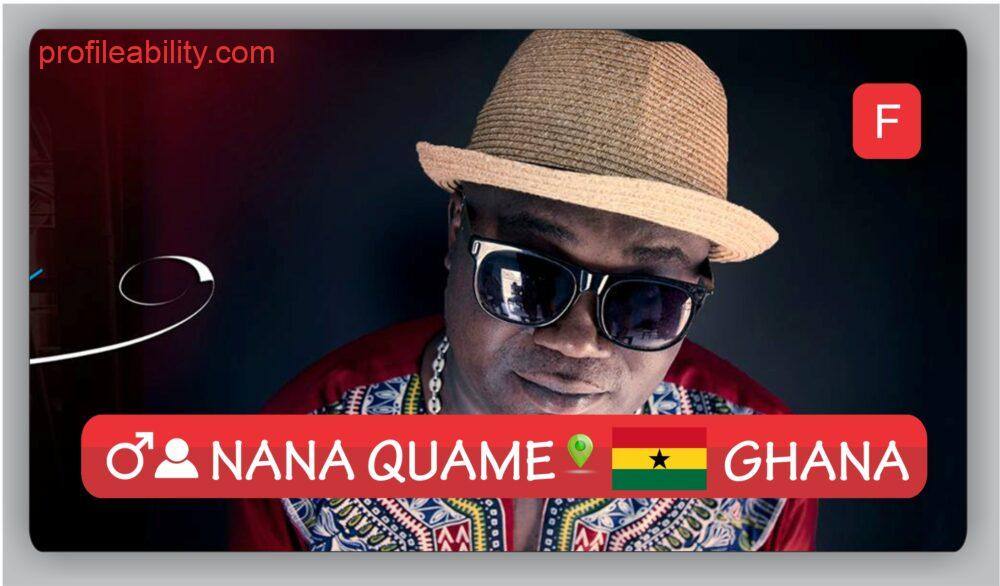 Nana Quame whose real name is  Henry De-Mensah  was born on 22nd Feb 1978 to Mr. And Mr. De-Mensah,
His talent and passion were discovered very early and were developed through dancing, rapping, and finally the aggressive young singer.
Nana Quame at a very tender age started performing in a talent shows despite his extremely young age he won a talent show on national television doing the rendition of the Ghanaian musician Kojo Antwi.
In 1996 Kojo Antwi discovered Nana Quame as known in showbiz when he won the best Year Award at His Majesty Nite Club. He featured in various hit songs at that time such as masan aba by Akyeame which was the number one hit during that time, Philomena by Tictac which got a lot of air play and sales too as well was also a mega-hit on the top chart and Tom & Jerry by Kojo Antwi.
As anticipated Nana Quame released his sophomore Album under Kojo Antwi's record label Family Spirit. The Album caused a stir in the Ghanaian music scene topping the chart and staying at number one for a long.
Nana Quame now so big has become a force and Major Ghanaian labels started giving him big offers to lure him into their fold till Slip Music signed him on their label.
He released his second album Odo Shock, which was a phenomenon hit. It stayed on the chart for 30 weeks, he soon distinguished himself as a singer and an entertainer of prodigal ability.
Odo shock, which was a hit, took the singer to another level. He mounted stages alongside big Artistes in Ghana and UK.

Nana Quame has to his credit successful shows such as Loud In Accra 2000, he was the first Ghanaian to perform at the Carnival 2000 in the UK and Ghana Independence Day Celebration UK, Miss Ghana 2001(Ghana), Africa Durb(UK) and will be performing at the Miss Ghana New York coming this year.
In 2001, he released his third album, FAKYE, which has dominated the music scene till now. As a serious singer, Nana Quame was nominated twice for best male voice at the Ghana Music Awards and Original Song Of The Year 2002 and won the Original Song Of The Year.
He went on the road for 3 months touring all over Ghana performing he was assorting out artists performing every day.
He is such a great performer and a showman, his acts are very captivating and distinct, and he is also very creative. Nana as he is called has performed in England, the USA, and other African countries.
In 2002 he followed with his new album called Nana Quame released under his record label NQ Records. Nana Quame known for consistency and reputation made the album a hit and climbed the chart selling 500,000 copies every week.
Nana's weapon is his scintillating voice he is a talented singer and as well as songwriter, and as a man dedicated to his goal and belief, he is bound to be a hit.
He has won a lot of awards and also has had a number of nominations too. He was nominated in 5 categories during the Ghana Music Awards 2003. He won the Best Male Vocalist for the year 2003. He has a lot of tours to make both in Ghana and Europe among others.
He owns a traditional Afro band, which plays alongside him wherever he goes. What is so the phenomenon is he always performs with live instruments. His style of music has a fusion of Ghanaian highlife and R & B; he also sings traditional Yaaponsa music, which is the original Ghanaian music.
FOLLOW NANA QUAME ON
FACEBOOK: Iamnanaquame1 TWITTER: @IamNanaQuame1  INSTAGRAM: Iamnanaquame1  
FOR BOOKINGS
TEL: +233554266672/+233249639641/+447473818331/+233244085314
LATEST TRACKS
LATEST MUSIC VIDEOS
#Official Music Videos and Performances by Nana Quame
LIVE STREAM