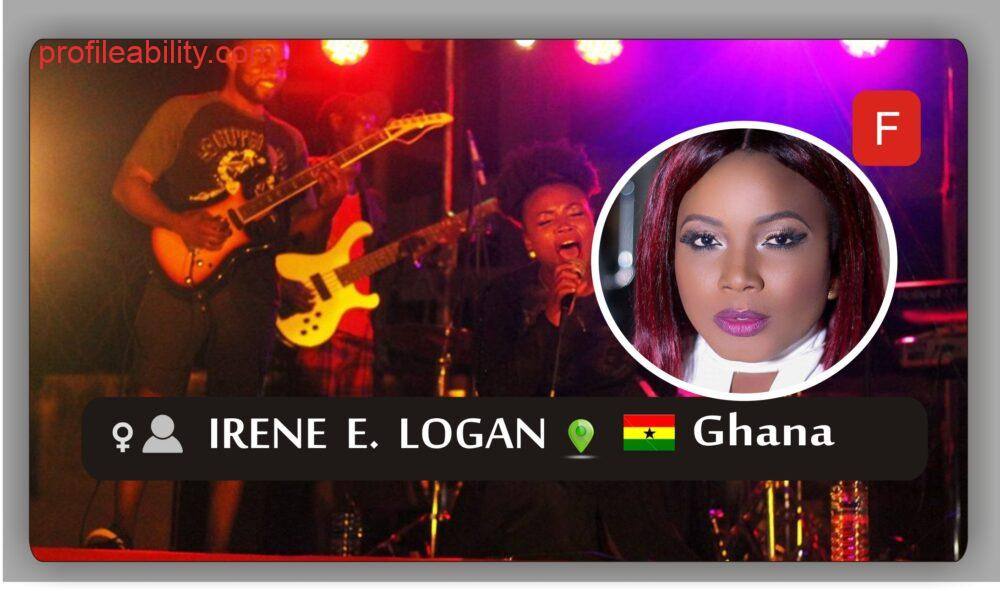 Ghana-based Liberian-born Afrosoul/Afropop singer, Irene Logan was born on February 16, 1984, in Monrovia, Liberia. She is an eclectic singer/songwriter who broke out of the famous "Irene and Jane" group, constituted of herself and Jane Fausier Awindor (Efya).
Irene lost her father when she was 3 months old and relocated to Ghana with her mother due to the civil war in her home country. Upon moving to Ghana, her mother got married to a Ghanaian.
Irene Logan grew up surrounded by music, her step-dad was a guitarist and singer while her mother was a popular gospel artiste in Liberia before moving to Ghana. She has her first go at a microphone at age 3 and at 5; she performed at the National Theatre with the Christian Action Faith Ministry. It was a gospel rock show where they sang 'People need the Lord.'
Irene has been riding a successful solo career since 2009 with hit songs like "Run away", "Kabila", "Na me dey there" and many more.
Irene Logan is an effortless creator of music who tells stories picked up through journeys of life. Her type of music is a soulful portrayal of the sounds of Africa.
Irene Logan's music is generally inspired by the diversity of Africa, as she was born in Liberia and bred in Ghana; thereby witnessing different cultures of the beautiful continent.
Early career
Irene Logan got exposure to fame in the maiden edition of the Stars of the Future talent show in 2006.
During the competition, the Ghanaian public showered her with love and admiration, as her passion proved her to be effervescent in the music scene. Irene Logan went on to win "Stars of the future", thereby solidifying her place as Ghana's favorite vocalist.
Irene and Jane Group
Irene Logan met Jane Fausier Awindor (Efya) at the Stars of the future competition and the two soon formed a bond that birthed one of Ghana's most successful groups. Irene and Jane revolutionized the music industry with songs like "baby" and "heated up". Their hard work was acknowledged with nominations at the Channel O Music Video Awards, KORA awards, and the Ghana Music Awards.
Irene has been singing professionally since 2006 and she was unveiled as one of Glo Ghana's Brand Ambassadors in 2009.
Irene's music can be downloaded on Soundcloud, Reverbnation, hulkshare, and youtube
Accomplishments:
My Mind Dey featured in Ghanaian popular Soap Opera Adams Apples
Opened performance for American Hip Hop star, Jay Z concert at Accra International Conference Centre in 2006
Opened performance for Beenie Man at Accra International Conference Centre 2005
Discography
Irene Logan – Medowo – 2015
Irene Logan – I fell in love with a devil – 2014
Irene Logan – Na Me Dey There – 2014
Irene Logan – SA – 2014
Irene Logan – Stay cover – 2014
Irene Logan – Akwasi Casanova – 2013
Irene Logan – Emperor – 2011
Irene Logan ft Asem – My Mind Dey – 2011
Irene Logan – Kabila – 2009
Irene Logan ft Asem – Runaway – 2009

Featured Songs
Irene Logan & Trigmatic – Light and darkness – 2012
Okyeame Kwame ft Irene Logan – Mr Versatile
Stonebwoy ft Irene Logan – Ghetto Love
Asem ft Irene Logan – 1000 fights – 2013
Awards and Nominations
2007 Ghana Music Awards Vocalist of the year
KORA Awards Nominee
Channel O Music Video Awards Nominee
Affiliations
UNHCR Ambassador 2010
Glo Ambassador 2009
I am the future with United Nations 2010
FOLLOW IRENE LOGAN
Facebook: Irene E. Logan Twitter:@IreneLogan
FOR BOOKINGS
Contact: 3FS Productions 
LISTEN TO IRENE'S LATEST TRACKS
LISTEN TO IRENE'S LATEST MUSIC VIDEOS
LIVE STREAM