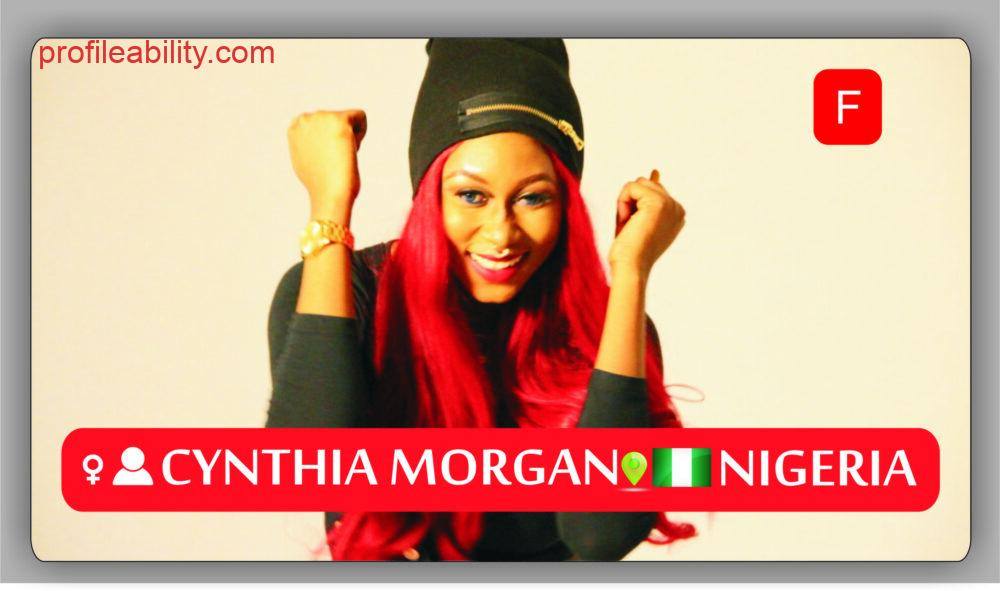 Cynthia Morgan is a Nigerian-born musician. Born September 23rd, 1991 in Benin City, the South of Nigeria. Her music is a fusion of Pop, Hip Hop, Rap and Dance Hall. She also calls herself Killa Marshal which is her alter Ego. Killa Marshal is a much crazier, sassy and raw side of her.
Cynthia Morgan grew up to become a singer, songwriter, and composer. She went on to record her debut single at the age of sixteen, getting airplay and interviews for local press in her hometown Benin City. Her professional passion and love for music started at the age of 3. She was raised by a single mother who is now a top music gospel artist in Benin City, Nigeria. Her upbringing was a rough and a tough one.
She was rejected by her father when her mom was 20 years old and pregnant and also after child birth. At the age of 16 years, Cynthia Morgan decided to go into music professionally. She released her first singles at the age of 17 years right after completing High School and got massive recognition and love from fans all over Nigeria. She grew up around musicians and back up singers from her mother's musical band since the age of three. She then moved to Lagos, Nigeria in 2008 to pursue her career.
In 2010 she was featured on the NEA award-winning track with Jhybo titled Ejo le Fe Ro Run Dia mouth.This track gave her instant recognition and fame nationwide Nigeria.
With a re-brand on her image and sound, she released her much-anticipated singles in Nigeria on July 9th, 2012 titled High High High and Ojoro. With the release of these songs, Cynthia Morgan trended worldwide for 10 hours and also trended in Nigeria for 48hours.The singer also reveals her sexy edgy look. Both singles shows Cynthia Morgan's versatility. Critics reviews High.High.High as a complete package of the beautiful artist. It shows all three sides of her, Singing, Rapping and Partua flow.
Cynthia Morgan has performed along sides Nigerian local acts such as Psquare, Wizkid, Dbanj and 2face. Cynthia Morgan sites Bob Marley, Rihanna, Sean Paul, Foxy Brown, 50
cents, Rick Ross, and Sizzla Kalonji to name a few as her role models Performance Resume:

Tetmosol girl power ; Lagos and Benin 2008 The return of the rain maker tour featuring Majek Fasek 2009 University Tour in five cities which includes Lagos, Benin, Enugu, Abuja and Calabar; Club Tour in major locals States in Nigeria.
FOLLOW CYNTHIA MORGAN:
FACEBOOK: Cynthia Morgan TWITTER: @Cynthiamorgan1  INSTAGRAM: cynthiamorgan__
FOR BOOKINGS:
EMAIL: Jude@northsidegroup.net
LATEST TRACKS:
LATEST MUSIC VIDEOS:
#Official Music videos by Cynthia Morgan
LIVE STREAM