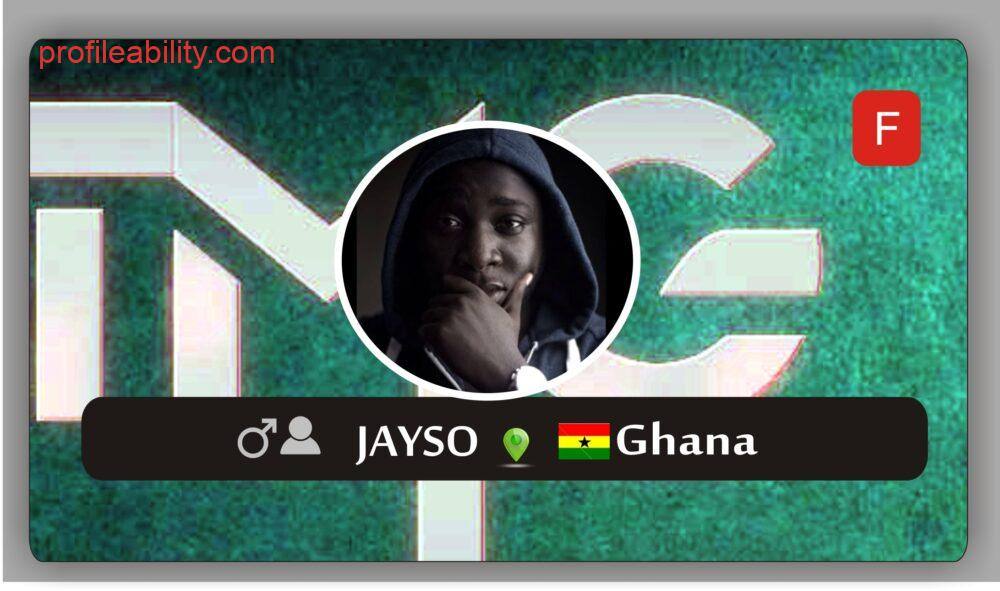 The growing hip-hop movement in Ghana became a force the day rapper and producer Jayso decided to chart the course.
Born Paul Nuamah Donkor on June 1 1983, he was weaned off the music of classic hip-hop and jazz acts like Das Efx, Tribe Called Quest, Nat King Cole and Frank Sinatra. It was just a matter of time before he developed a fondness for what he heard and decided to follow that same path.
After years of honing his skill at home, Jayso decided to take it a step further by starting a group which has come to be known the Skillions. A contraction for skills in a million, the name is a depiction of the group's depth in talent. He kicked of with his partner in rhyme Terry Thomas Tetteyfio a.k.a T- Kube when they were both students at the Presbyterian Boys Secondary School, Legon, in 1999.
Along the way he took a detour and became a member of another group known as The Haatsville Project. Comprised of JPE now 'Kobi Onyame', Mr. Scratch and The Canz. The group offered him a professional outlook to music and the desire to make beats. The group released their first production in 2002 titled the Haatsville Project with entire production handled by JPE and Jayso.
The 'Producer Extraordinaire' decided to use his improved knowledge to resurrect the Skillions while enlisting EL, J-town, NKP and Midknight along the way. Jayso's bedroom became a make-shift studio where they made their first banger titled the Skillions Demotapes. The mixtape, the first of its kind in GH, created some major buzz which spread as far as Nigeria. The group successfully started a new phrase for the Ghanaian hiphop industry. GHRAP as it was known has now become a phrase that is still echoing and making people wonder where it originated. Jayso defines GHRAP as Hiphop music made in Ghana. An alias for what the Skillions created in the booth. The question then is raised; What is the difference between Hiplife and GHRAP? Jayso defines Hiplife as a genre whereas GHRAP is not. GHRAP is only a nickname for the kind of music the Skillions were making. Hiphop beats with rap/singing in english or pidgin. Basically, they simply wanted to be identified as Ghanaian Hiphop artists. Besides, Jayso never thought the phrase coined in his bedroom will become this controversial.
People might ask how a Computer Science student majoring in Business Information Systems find the time for music. The answer, 'Genius'. His interest in Computer Technology was the chauffeur to his present musical excellence in the first place. Jayso also took a few courses in leadership training programs in his spare time to sharpen his leadership skills.

His production prowess has spread around like wildfire. In just a couple of years, he has got a healthy slew of clients on his resumé. His production credits include Wyclef Jean, Sway Dasafo, Tuface Idibia, Reggie Rockstone, Scientific, Kwaw Kese. etc. He has also spread his skill outside the borders of Ghana, having produced tracks for Nigerian bigwigs Ikechukwu and Naeto-C and also Baponga of Gabon. Jayso is also responsible for the success of new hiphop sensation Sarkodie. Producing about 70% of the artist's maiden album, Makye.
With the skills section on lock, Jayso is sharpening the business side of things. In collaboration with Melissa Mensah, his personal manager, they have launched Skillions Records. Skillions Records has embarked on various projects with the aim of promoting good quality music that will break away into the international market. He currently owns and manages a band that specializes in Jazz music.
The future can only be brighter for Jayso and Skillions Records especially as Ghana is gradually embracing home-grown hip-hop and Jazz music.
God 1st. Record Producer/Artist/CEO of Skillions Records & 6miludo Media
FOLLOW JAYSO
Facebook: Jayso  Twitter:@JaysoSkillions
 FOR BOOKINGS
Skillions Records (Indie Label):www.jaysoskillions.com 
 LATEST TRACKS
 LATEST MUSIC VIDEOS
LIVE STREAM