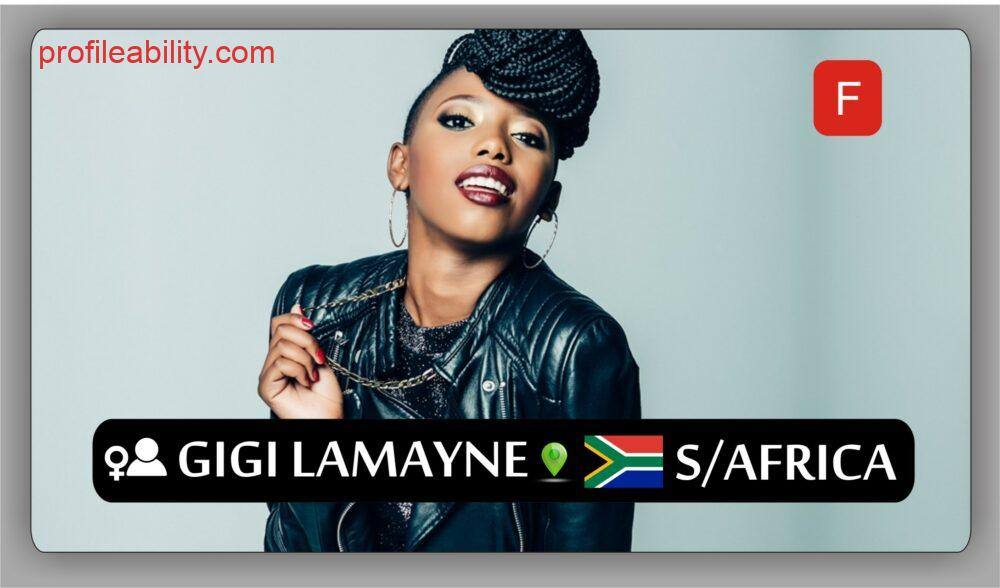 [insert-html-here 4]
Genesis Gabriella Tina Manney, also known as simply Gigi Lamayne (born July 7, 1994), is a South African rapper, songwriter, poet, and poem writer.
South African female Hip Hop Artist. Real name, Genesis Gabriella Tina Manney. Born on July 7 1994 to parents, Colin and Sarah Manney. Attended school at Dominican Convent School in Johannesburg (2001-2012). Started writing poetry at the age of 11 and narrowed her path to rap at the age of 16. With the assistance of names such as Scratchbeats records, she managed to release her first mixtape titled, El Principio-16. Mentorship from names such as Munya "Lym C" Chanetsa, Mitchan "Pinkaso" Adams, and Clint Allin.
Her Inspiration is said to have been taken from Jean Grae, Bob Marley, Brenda Fassie, and Tupac Shakur. Gigi LaMayne was the first teenage female rapper in South Africa to be signed to a prominent label at the age of 16. Her background is believed to have molded her into the lyricist so many identify with. She has lived in Lenasia, Soweto, Eldorado Park, Yeoville, and Boarding school for most of her life. Gigi Lamayne won Best female at the South African Hip Hop Awards of 2013 and again in 2014 for Best Female. She is the first female ever to make it through to the finals of Sprite.
Uncontainable 2013 and 2015 won the Jack Scouts Challenge endorsed by jack Daniels. Winners were treated to various prizes including a trip to Miami as well as the opportunity to attend the Miami Music Conference. She was signed as the first female under Bentley Records also known as the MFE family in 2013 alongside Pro Kid, Red Button, and Captain. She later parted ways to pursue a solo career. She proceeded to win Beat female for her sophomore mixtape titled, "color of Reign" under the production of Shayzar Zimanyi. She is the youngest award-winning female in South Africa with an accolade for "Best Female" at the South African Hip Hop Awards.
With her first mixtape, 'Circus Cafe' worked alongside Audio Restaurant with producers J-Twinn and TAwm. She is currently signed to Dream Team SA which is a 360-degree management company. Fellow stable mates include Khuli Chana, Ms. Cosmo, DJ ZanD, Tumisho Masha and many more. She debuted her single "Ice Cream" produced by The Mixmasterz in March 2015 which reached 20 000 downloads in the first day. A follow-up Remix of "Ice Cream" featuring stable mate and mentor, Khuli Chana, was released and debuted as an official remix on Channel O in May 2015.

FOLLOW GIGI LAMYNE
FACEBOOK: Gigi Lamayne TWITTER:@Gigi_Lamayne GOOGLE+:Gigi Lamayne
FOR BOOKINGS
EMAIL: Bookings@hartroc.com|sheila@sheilaafari.com
LATEST TRACKS
LATEST MUSIC VIDEOS
#Official YouTube Videos by Gigi Lamyne
LIVE STREAM