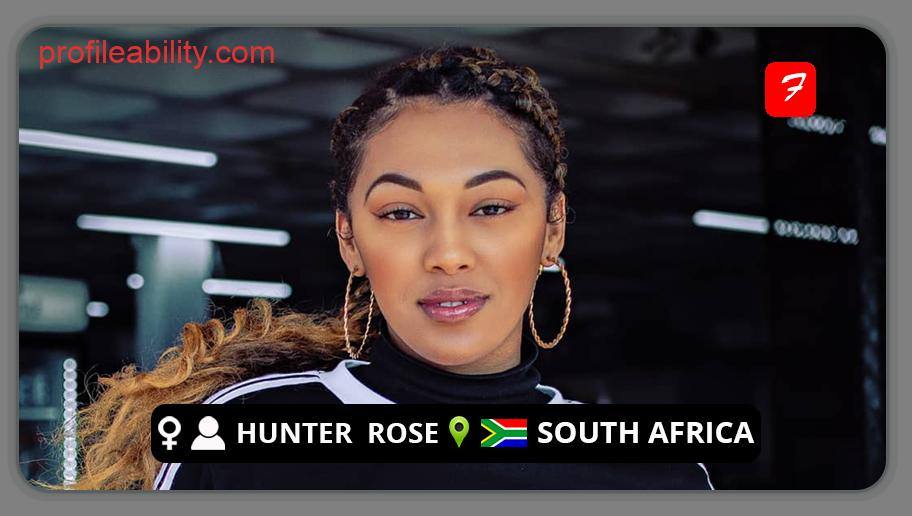 Hunter Rose is a rising R&B and Neo-Soul singer from Cape Town, South Africa, who wows audiences with her energetic performances. The singer-songwriter is recognized for fusing soul and jazz with neo-R&B components to produce a sleek and contemporary body of work.
She made her first appearance in the business after the release of her single "Hot" in 2019. Unafraid to experiment with a much more dance-rooted sound, she followed up with her second release, "Let Me Go," which included acclaimed German producer Meek and iIE Saadiq.
The two singles saw Rose graced the stages at iconic venues such as the Artscape Theatre, Baxter Theatre, and Bree Street's bustling Red Bull Studios for the two singles, including her first TV appearance on SABC's Expresso Morning Show.
Hunter's style is highly distinctive, incorporating the essence of her identity every time she performs, drawing inspiration from acts like D'Angelo and Anita Baker as well as the rhythmic stylings of deep house and trap.
In 2018, she performed on a number of major venues around Europe, particularly in Switzerland and Germany. In October 2019, she released ''Slow Summer," a collab debut EP with Clap Cotton and Loop Schrauber.
'Love & Trust,' her eight-track sophomore EP, was released in 2020 by Rude World Records and includes hits like "Let Me Go," "GROWN," "I Just Might," and "By Your Side." Artists that are featured on the album include Swiss producer and hip hop aficionado, Maloon TheBoom, Unda de Sango, Mpho Raymond, and South African electronic-soul producer ECHLN just to name a few.

After being named Apple Music's artist of the month for July, the attention soon moved to the singer following the release of this Refreshing EP.
With a diverse style that incorporates Hip Hop, Soul, and R&B, as well as the ability to captivate an audience, Hunter Rose is undeniably one to watch.
FOLLOW HUNTER ROSE
FACEBOOK: Hunter Rose   TWITTER: @Hunterroseeee    INSTAGRAM: @hunterroseeee
FOR BOOKINGS
EMAIL: hunterroseinfo@gmail.com                       
LATEST TRACKS
LATEST MUSIC VIDEOS
Sorry, there was a YouTube error.
LIVE STREAM