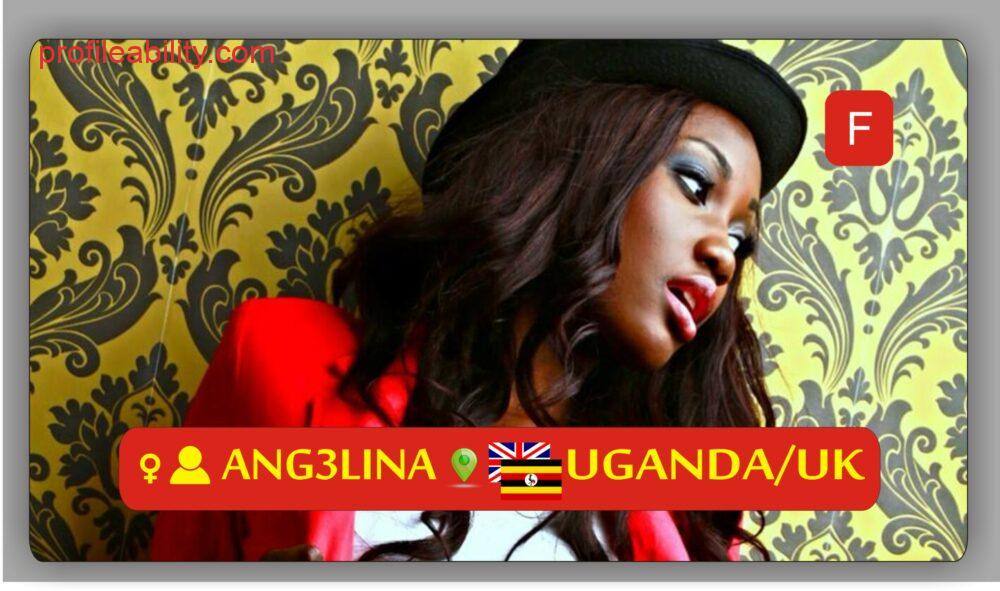 Angela Nabuufu, better known by her stage name "Ang3lina" The Ghetto Lover is a young talented female UK-based artist who has been exposed to music from a very young age. Angela Nabuufu Kintu (full name), was born in North Middlesex Hospital on 25th Feb 1995, London U.K.
At the age of just seven, Angela taught herself how to play the piano and now plays it at an exceptional level. Her music talents progressed over the years, She furthermore acquired skills in songwriting, Guitar playing, and Music Software/Studio production.
Education:
The young musician mainly developed her songwriting skills during her secondary school years at a Boarding school she attended in West Sussex; "The Towers Convent School" A catholic single-sex school based in Upper Beeding (UK). She studied there for 5 years. During her time there she managed to compose songs that were performed by her school choir at various events both in and outside school.
She attended Primary school in her local town Tottenham "St Pauls & All Hallows"
Before attending University, Her final 2 years of A-levels were spent in West London at a well-known college in Ladbroke Grove "St Charles Catholic Sixth Form College"
The singer is currently at University in Birmingham studying an Undergraduate degree in Clinical Psychology (Hons).
Family:
The Ghetto Lover states that her Grandmother: Gertrude Nakanwaji a former Primary school teacher in Kiteezi (Uganda), is the special lady who taught her how to speak her language "Luganda". Gertrude came to the UK when she was 9 years old and taught her everything she knows about her motherland.

Angela comes from a family of 4 girls. Her family flies out to Uganda every year. Her Father Richard Kintu is a Constructive Manager at a local Quarry in Muyenga and Mukono. Her Mother Juliet Nakibuule is a Nurse who graduated in the UK from the University of Hertfordshire.
Music Career:
Ang3lina kickstarted off her solo career in 2013. In August she released her first solo single titled "Sigwa kukoma" which in English means: never-ending. Sigwa Kukoma was produced by Paddy Man at Audio 1 Records.
Before returning back to Uganda for Christmas in 2013, Angela scooped her first-ever music nomination in Uganda's Hipipo Awards 2013 as "Best Artist in Diaspora"
Ang3lina's popularity and exposure grew when she dropped her dancehall hit "Ghetto Lovin'" produced by D.reign at buddies studios. This became an instant hit in Kampala.
Ang3lina has worked with various producers and is currently set on releasing more singles and collaborations with her new label Supanova Music Group owned by former Manager of Keko; Just Jose and the aggressive former Swangz Avenue Artistes Manager; PJ Boaz whose works are always evident by the results achieved on whatever they have their hands set on.
In October 2014, Ang3lina Scooped her first ever Award as 'Best Diaspora Artist' in The Rising Star Awards. Not to mention scooping Nominations in The Kadanke National "Youth Festival Awards 2014" and the Annual "Abryanz Style & Fashion Awards" In 2015 she scooped another award at the first ever Ugandan Entertainment Awards as "Best Artiste in Diaspora" which took place at the Speke hotel Resort, Munyonyo Uganda.
More promising work is yet to come from Ang3lina. She is determined, equipped and ready to awe you with her Fresh urban talent.
AWARDS
Best Diaspora Artist 2014 (RSA Awards).
Best Artist in Diaspora 2015 – (UEAwards)
FOLLOW ANG3LINA
FACEBOOK: Ang3lina TWITTER: @Ang3linababy INSTAGRAM: Ang3linababy
FOR BOOKINGS:
EMAIL: ang3linamusic@gmail.com
LATEST TRACKS:
LATEST MUSIC VIDEOS:
#Official Music Videos by Ang3lina
LIVE STREAM