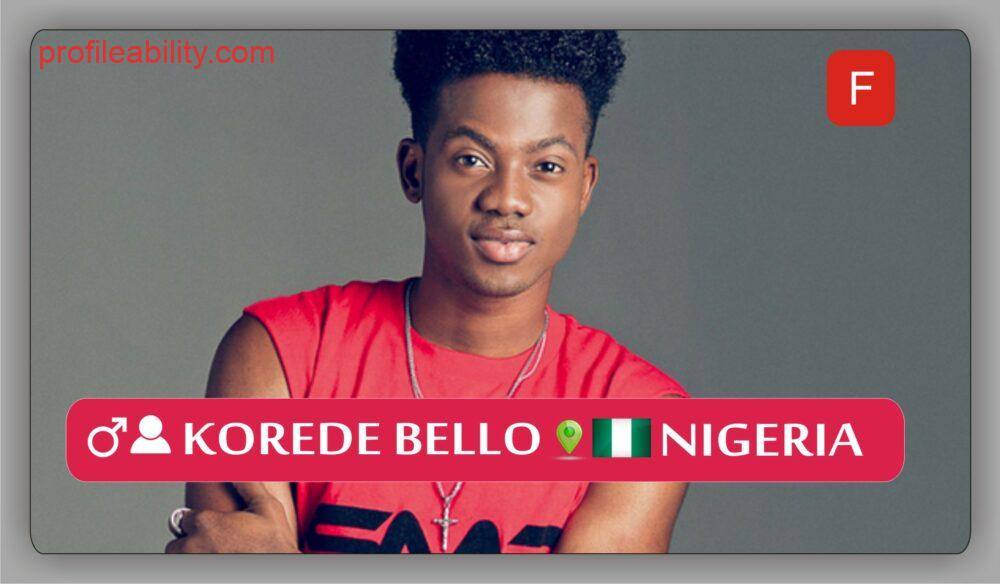 Korede Bello was born in Lagos, Nigeria. As a child, Korede Bello showed a strong interest in Dance and Music, teaching himself to play many instruments.
At 7, he began performing on stages and entered his school talent competition at the age of 13, and placed first Taking on singing and performing as a career path, he began performing at local venues and began growing a following.
Years after, he was discovered and signed a recording and distribution deal with Mavin Records. His first single, "African Princess", was a country hit and then his first collaboration with label mates "Dorobucci" became a continent hit and was certified Platinum in YouTube views (Famously known for the "Korede Bello Wink").
This was followed by Korede Bello's second single, "Cold Outside", which instantly became another country smash. Korede Bello with a promising and successful music career ahead is recording and getting his debut album ready and has tried his hand at acting, and voice-overs including guest starring in a radio drama series called Purple Tins (2014). He has a large and loyal fan base, who are nicknamed "Bellovers".
Bellovers; the name his core fans go by since his appearance in the "Dorobucci" video, have increased exponentially, Making Korede Bello one of Africa' s most desired and promising young acts. With over 200,000 FOLLOWER'S on Social Media. His Music appeals more to the Young; teenagers and young adults, but most recently, gradually growing an older adults. Some core industry analysts have tagged him as Africa's Justin Bieber.
He is an incredible performer and knows how to bring any Arena to life. From performing at private parties to fully packed stadium concerts, he gives nothing less than an electrifying performance!

Brand Power; Korede Bello has also secured endorsement deals with Woodin Nigeria, representing some of Africa's Top brands. A likelable personality and amazing charisma he possesses. He is expected to be one of Africa's greatest voices for this generations
Hit Singles
Korede Bello's current single GodWin is currently the #1 on the iTunes music charts (Nigeria) and has spawned a movement that is keeping the song on top of majority of the radio charts and airplay. With three (3) #1 hit solo singles excluding the additional 3 collaborated on singles with label mates; Dorobucci, Adaobi and Looku Looku.
The Young Philanthropist
Korede Bello might be young, but he understands he can make this world a better place. By standing for what is right in the society and doing what he can do to make this world a better place. He has been involved with several non-profit organizations including ; Cancer Awareness Projects, charity, and patriotic campaigns .
FOLLOW KOREDE BELLO:
FACEBOOK: Korede Bello  TWITTER: @koredebello OFFICIAL WEBSITE: www.koredebello.com
FOR BOOKINGS:
Email: Bookkoredebello@gmail.com
MUSIC BY KOREDE BELLO:
LATEST MUSIC VIDEOS:
#Official Music videos by MAVIN
LIVE STREAM