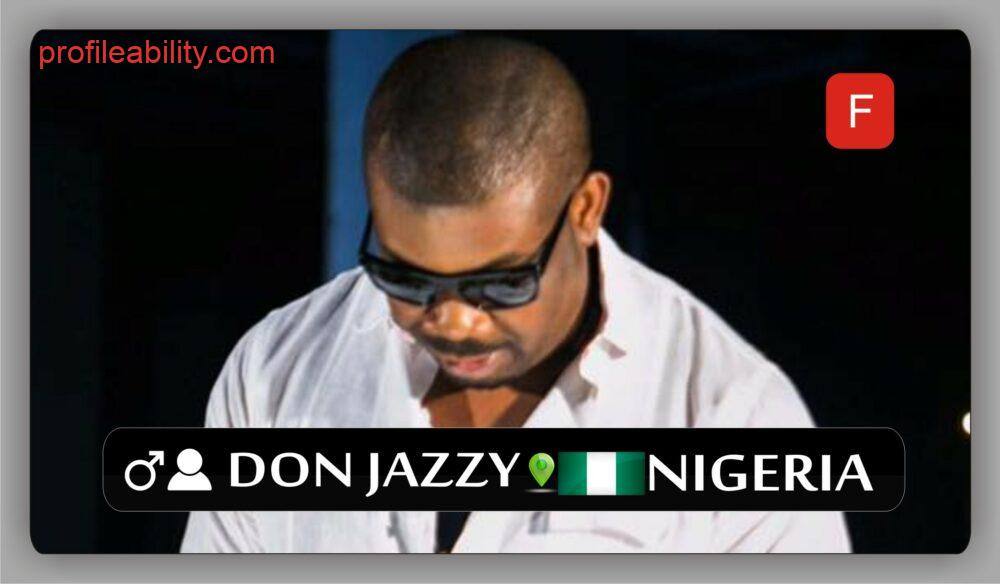 Michael Collins Ajereh (born November 26, 1982), better known as Don Jazzy, is a Nigerian Multi award-winning record producer, singer-songwriter, musician, and CEO of Mo Hits founded in 2004 and Mavins Records. Born in Umuahia in Abia state, his first signing was D banj who was also the vice president of the label.
Don Jazzy's first full credit production work was in 2004 on Tongolo for Nigerian singer D banj He went on to produce D'banj's first studio album titled NO Long Thing released in 2005.
He has produced tracks for DR SID, WANDE COAL, D PRINCE, DAREY, NAETO C, SAUCE KID, IKECHUKWU, JAY Z, KANYE WEST & BEYONCE
He recently was rated as the 36th"Most powerful celebrity in Africa" according to Forbes
Michael Collins Ajereh was born in Umuahia later on he and his family moved to Ajegunle city in Lagos state where he was raised, and graduated from Federal Government College, Michael Had always had a flair for music singing, and playing the drums from the age of 4. He developed a passion for the bass guitar at the age of 12, He went on to study Business Management at Ambrose Alli University in Edo state He then moved to London in 2000 after his Uncle invited him to come to play the drums for the neighborhood Church.
Production Discography
Albums
D'banj – No Long Thing (2005)
D'banj – Rundown/Funk You Up (2006)
D'banj – The Entertainer (2008)
Mo' Hits Allstars – Curriculum Vitae (CV) (2007)
Anaconda 3:34
Booty Call 5:13
Close To You 3:43
Hey Girl 5:06
Igbe Mi 5:40
Masqurade 4:02
No Long Thing 3:15
Ololufe (Club Mix) 4:21
Stop The Violence 6:37
Why Me (Remix) 5:16
Jasi 2:50
Wande Coal – Mushin2Mohits (2008)
I Know U Like It 3:10
You Bad 4:05
Se Na Like This 4:12
Kiss Ur Hands 3:54
Confused 4:20
Se Okpe 3:22
Now It's All Gone 4:24
Bumper 2 Bumper 3:44
Who Born The Maga 3:04
Thats Wots Up 4:42
Bananas 3:59
Taboo 4:24
Jehovah 4:02
Ololufe 4:56
Ten Ten 3:47
My Grind 4:48
Dr SID Turning Point (Dr SID album) (2010)
When This Song Comes On
Over the Moon (feat. K-Switch)
Something About You
Winchi Winchi (feat. Wande Coal)
Pop something (feat. D'banj)
Ba Mi Jo (feat. Ikechukwu, M.I & eLDee
Baby
E Je Ka Jo (feat. D'banj)
Pillow
Something About You (Silva Stone Remix)
Winchi Winchi (feat. Wande Coal, Sway & Dotstar)
Singles
Mo' Hits Artists
Omoba
I like What I See (feat. Wande Coal)
Ooze (feat. D'banj)
Give It To me (feat. D'banj)
Tongolo (2005)
Socor (2005)
Mobolowowon (2005)
Why Me (2006)
Run Down (2006)
Kimon (2008)
Olorun Maje (2008)
Gbono Fele (2008)
Entertainer (2008)
Suddenly (2008)
Fall In Love (2008)
Igwe (2008)
Mr Endowed (2010)
I do This
Scape Goat (2010)
Mr Endowed (Remix) (feat. Snoop Dogg) (2010)
Oliver (2011)
Bumper 2 Bumper
You Bad
Kiss Your Hand
Who Born the Maga
Been Long You Saw Me (feat. Don Jazzy) (2011)
Go Low (2011)
Something About You (2009)
Winchi winchi (2009)
Pop Something(feat. D'banj)
Over The Moon (2010)
Ten Ten
Non–Mo' Hits Artists

Darey – Escalade part 2
Darey – Stroke Me
Shank – Never Felt
Naeto C – Asewo
Ikechukwu – Like You (feat. Wande Coal)
Ikechukwu – Wind am well (feat. D'banj and Don Jazzy)
Ikechukwu – Do (feat. D'banj)
Ikechukwu – All on Me
Ikechukwu – Critical
Ikechukwu – Now is the time (feat. Don Jazzy)
Sauce Kid – Under G
Kanye West & Jay-Z – Lift Off (feat.Beyoncé)
Awards
Nigerian Music Awards (NMA) 2006 Producer of the Year
Nigerian Entertainment Awards 2007 Music Producer of the Year
FOLLOW DON JAZZY ON
FACEBOOK: Don Jazzy TWITTER: @DONJAZZY INSTAGRAM:donjazzy
OFFICIAL WEBSITE: www.mavinrecords.com
FOR BOOKINGS
EMAIL: Tega@Mavinrecords.com
LATEST TRACKS
LATEST MUSIC VIDEOS
#Official Music Videos & Audio slides by MavinRecords
LIVE STREAM
Follow @DONJAZZY
Tweets by DONJAZZY
Save
Save
Save