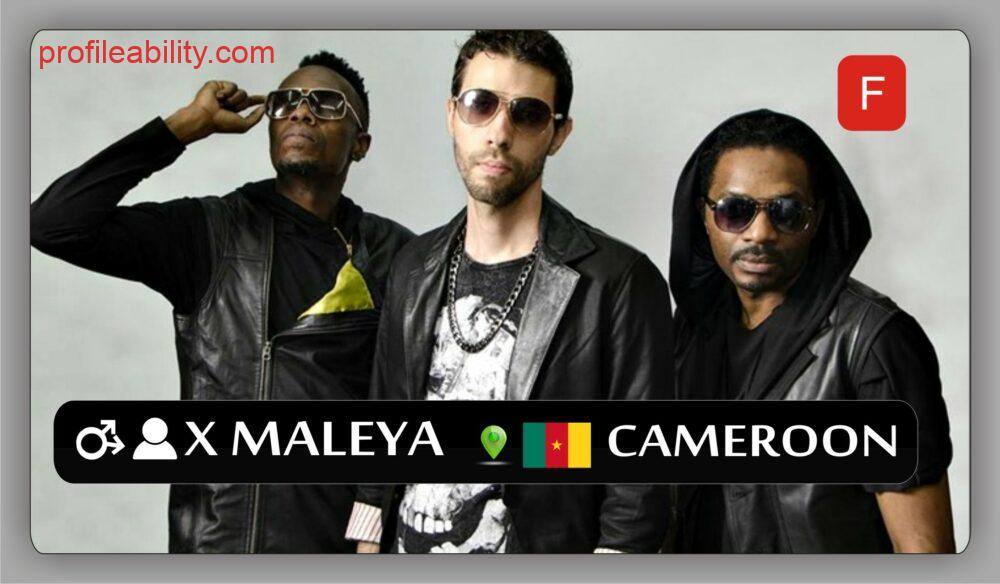 A hurricane, a new breath that dusts off Daddy's Makossa from Cameroon. X MALEYA by its mixing of people and by consequence of music brings this musical revolution which currently refreshes the African sound. The name Maleya means "Council" in Douala language and the X is for the unknown, the one who listens to the councils. Is made up of the Cameroonians Auguste and Roger, then of the Franco-American-Cameroonian half-breed Hais. These friends of childhood have put together their love of music to make a concentrate of talent and musical freshness. It is therefore quite natural that one will find in their music this subtle mixture of songs in French, English, and bassa on a background of Hip-Hop, rhythms, and Bantu sounds.
Number one in Africa, it is not by chance!
The musical universe of the group is as varied as the origins of its members. Cameroonians for Roger and Auguste, half-breeds of an American father and Franco-Cameroonian mother, for Haïs.
It is therefore logical that the bassa, the French and the English are found in the album. Each has its common touch. Encountered a few years ago on the benches of the lycée, the two "blacks" take care of the song. Roger in Bassa and Auguste in French.
As for the "white" of the group, Haïssama or Haïs for the intimates, he takes the cap of author-composer. Last arrived in the group, Haïs never leaves his guitar.
Fans will discover the album during its promotion during the concerts and performances organized this year. The members of the group X-Maleya have heard enough of this chorus when they released their first album.
For their new jewel, young artists prefer their audience to focus on the quality of their music, not on their youth and the lack of experience it entails.
Roger, Auguste, and Haïssama propose an eponymous album, X-Maleya, with "far fewer errors than in the first", explains Roger, to reassure the possible skeptics.
Innovations appear technically to artists, even if they do not throw away flowers when they speak of maturity, because they admit, "many things are still to be perfected."
The young musicians want to get rid of this label of hip-hop singers and put forward their professional side. Nevertheless, they do not deviate too much from the rhythms proper to their age group.

In this album, fans will find hip-hop, but also an old rhythm called "Makoma", updated for the occasion, to reconcile youth and experience. X-maleya reassured.
They tried to do better than the first album. "Each of us has brought his sensitivity and we have tried to do something good," says Auguste.
In view of the magnitude that the group takes today through its solicitation to almost all the festive events in Cameroon, it can be said with happiness that this album is that of maturity.
By greatsong.net
FOLLOW X-MALEYA ON
FACEBOOK:X-Maleya TWITTER: @X-MALEYA INSTAGRAM:
FOR BOOKINGS
EMAIL: xmbooking@gmail.com  | Call: +237 6 77 27 23 63
 LATEST TRACKS
LATEST MUSIC VIDEOS
#Official Music Videos by X-MALEYA
LIVE STREAM
Follow @X_MALEYA
Tweets by X_MALEYA
Save
Save
Save
Save
Save
Save