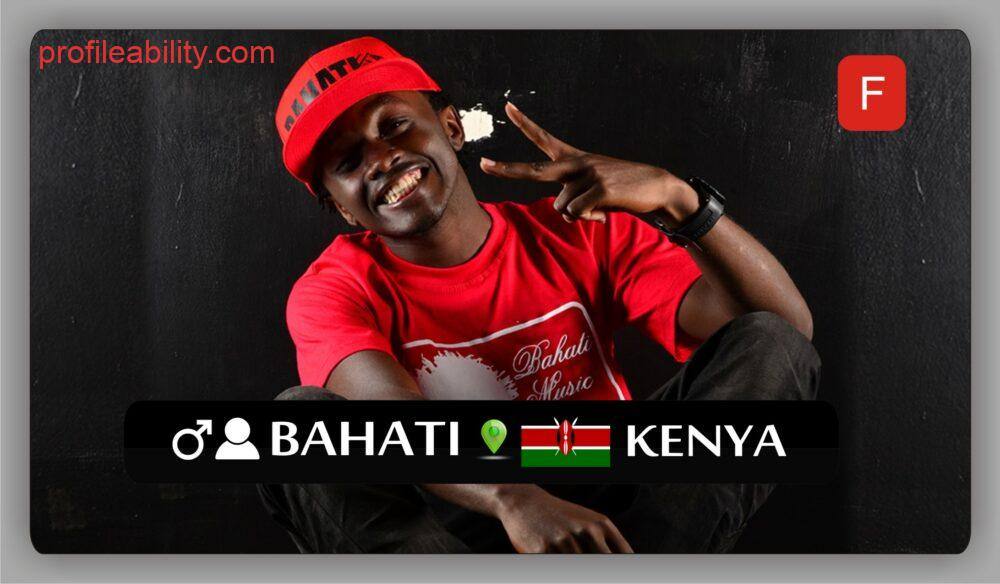 Born Kevin Bahati. He is the fastest-growing gospel Musician from Kenya; East Africa. Eastlands Most Beloved!
Bahati's life story reminisces the dreams of any kid growing up in an unforgiving world and has nothing else but hopes and dreams. Orphaned at a young age, Bahati's mum passed on when he was very little; in nursery school. His well-to-do father then remarried and relocated to another part of the country. They never met for more than 8 years and this time, his suffering led him to ABC Children's Home,Mathare. While at the children's home, a young passionate Bahati found solace in music. He made his entry into the arts by reciting Swahili poetry in school and church. In 2010, Bahati represented St. Teresa's Boys Eastleigh in the Music Festival National competition in Nakuru where he played the guitar.
In 2013, his musical journey kicked off with the release of his first single and video titled Siku ya Kwanza. In this song, he talks about the first day he got saved. The song received considerable airplay. Bahati's breakthrough came through when he won the coveted New Gospel artist of the year, Groove Awards 2013 in an event that was graced by President Uhuru Kenyatta and televised live to millions of viewers in Africa.
Bahati followed up with Wangu, in collaboration with Mr. Seed. Soon after releasing 'Mama' and topping the charts. Bahati felt inspired to sing about his life thus the song 'Machozi'. The Video was shot in Mathare slums (where he lived before venturing into music), Bahati narrates his story alongside the onlookers most of whom he grew up with.
ACHIEVEMENTS
Bahati has been the fastest-rising Musician in Kenya been able to win the hearts of many. He received his first Groove award after barely 7 months in the Music Ministry.

His Biggest breakthrough was the song 'Barua' which has been one of the most-played songs in Kenya for the last few years. 'Barua'  also scooped three major awards in the 2015 Groove Awards; as the Song of the Year, Video of the Year & the most downloaded SKIZA RINGBACK TONE in Kenya.
AWARDS
*Best Male Artist Groove Awards 2014 & 2015
*Best Male Video Kenya Pulse Awards
*Best Gospel Act Africa AFRIMMA AWARDS
His latest hits are 'Story Yangu' with Denno who is a Talented artist facing Eye- Disability and recently released 'Itakua Sawa'  a narration of how he left his village for the city looking for ways to end poverty in his community. 'Itakua Sawa' is a Swahili word that means "it's Well"
PROJECTS
Since his first breakthrough musically, Bahati started a project for disabled children in Komarock, DISABLED CHILDREN MONITOR (DCM) which has been set to help children with disabilities around the slums of Kayole, this started the moment Bahati noticed most of the Parents with kids in kayole slums facing disabilities challenges didn't have enough funds to cater for there medical services or even get required facilities for this kids, through this project which is 2 years now more than Eleven (11) kids have been healed and they can comfortably walk.
Also, Bahati has launched a music recording studio EMB RECORDS  which is meant to promote music of his kind this came after Bahati noticed that there are so many talents hidden in slums from youths who were not able to afford to pay for good and quality music studios. Through this project, Bahati has promised to be launching a new artist through EMB RECORDS every year. His first project artist was Weezdom's song named FAHAM which has gained lots of airplay in Kenya and east Africa.
FOLLOW BAHATI ON
FACEBOOK: Bahati TWITTER:@bahatikenya  INSTAGRAM: bahatikenya
OFFICIAL WEBSITE: www.bahatikenya.co.ke
FOR BOOKINGS
EMAIL: bookings@bahatimusic.com
LATEST TRACKS
LATEST MUSIC VIDEOS
#Official Music Videos and Performances by Bahati
LIVE STREAM