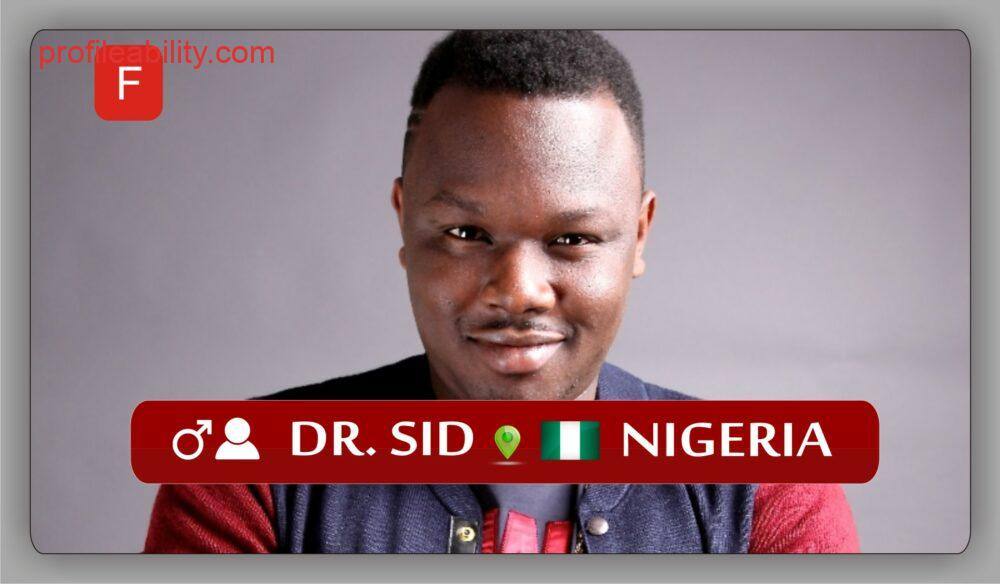 Dr. SID was born Sidney Onoriode Esiri on the 1st of May 1980, into an entertainment family.
His mother was a successful fashion designer and his father was the legendary actor Justus Esiri famous for his role as the Village Headmaster.
The second of 4 children, from an early age he had his heart set on becoming an entertainer. However his life took a different course graduating from the Nigerian Air force Secondary school, SID went on to the University Of Ibadan (UI) to study Dental Surgery. During his school years, his flair for entertainment could not be hidden as he took part in school plays, dance competitions, and concerts winning numerous awards along the way.
His break finally came in 1999 when he signed on to a fresh new record label Trybe Records (who released the legendary hip hop group Trybesmen) as a choreographer. It took 3 years for SID to get his chance in front of the mic, when he was made a member of Da Trybe, and given a spot on the song that caused a revolution in Nigerian Hip-hop "OYA" in 2002 alongside Sasha, 2-Shotz, Timi, DEL, and the Trybesmen (Eldee, Kb and Freestyle). Over the next year, SID recorded his Debut Single "Don't Stop" and had the number 1 video on the MBI top ten for 8 weeks.
His music career had to be put on hold as he had to take a year out to finish up his university degree. In May 2004 SID became a qualified Dentist. He moved to the UK working with the likes of JJC & the 419 squads, Felix Duke, KAS, R70 music group, and a then Unknown D'Banj. Returning to Nigeria SID spent the next year working at Lagos University Teaching Hospital, and then went on to serve his country. Fulfilling his educational and National obligations, he returned to his first love music.
He has since signed onto Don Jazzy's Mo' Hits records alongside D'banj, Wande Coal, Kayswitch and D'Prince and featured on 7 of the 15 tracks on the Mo Hits Allstars CV (Curriculum Vitae Album), and featured in the videos for Move your body, booty call , kpere and Close to you.

Some of SID's performances include:
Dr Alban concert at polo club 1998, Naughty by nature concert at the polo club 2000, Ginuwine concert at the lagoon 2003, Nigerian independence concert London 2004, Rythym unplugged 2004 an 2005, Thisday music festival 2006 and 2007, Starville concert 2007, Akon concert 2007, Star Mega jam 2007, Calabar carnival 2007, Basketmouth uncensored 2005 and 2007, Soundcity blast 2006 and 2007, Homecoming 2007, Zenith bank CEO award night 2007, UBA MD/CEO award night 2008.
SID has the talent of being not just a musician but an MC he has hosted numerous events over the years, some of which include;
Soul E star comms concerts at The Vault (for 5 Months)
MTV alert concert at Planet one, Next Nigerian Icon launch at the Civic Centre, Diamond bank end of year party 2006, Fusion Charity Fashion Show 2006, The Rythym Council (Benin and Enugu), MTV MTN VJ search……. to mention a few.
He is definitely a born entertainer and is here to stay, so watch out for this young man in the years to come.
FOLLOW DR. SID ON:
FACEBOOK:  Dr. SID TWITTER: @IamDrSID  OFFICIAL WEBSITE: www.iamdrsid.com
FOR BOOKINGS:
Contact:  +2347036281059  EMAIL: Anthony@iamdrsid.com ,Tega@mavinrecords.com
LATEST TRACKS:
LATEST MUSIC VIDEOS:
#Official Music videos by Dr. SID
LIVE STREAM