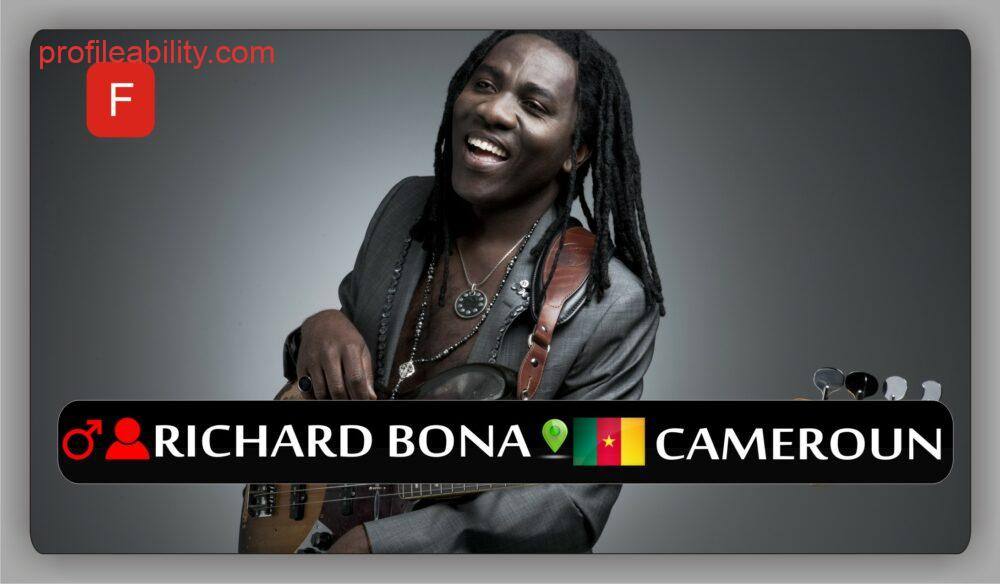 Richard Bona was born in the Cameroonian village of Minta. When the infant Bona came down with malaria, his family discovered that only the sound of the balafon could soothe him. When he recovered, his grandfather, the village griot, showed him how to build his own instrument. He played for hours every day, and by the age of five he was performing regularly. He could play any instrument he heard: flute, hand percussion, drums. When Bona was 11 his family moved to the big city of Douala, and Bona fell in love with the sound of the guitar. He built himself a 12-string, using bicycle brake cable for strings. Soon he was playing in local bikutsi and makossa bands. Then fate intervened when a French jazz club opened at a local hotel. The patron of the establishment sought out the talented kid he'd heard about and asked him to put together a band. Bona knew nothing about jazz at the time, but he needed the gig. Fortunately, the club owner had over 500 records. Bona spent his days listening and his nights trying out what he had learned. One of the first things he heard was the 1976 album Jaco Pastorius, and it changed his life forever.
"Imagine an artist with Jaco Pastorious's virtuosity, George Benson's vocal fluidity, Joao Gilberto's sense of song and harmony, all mixed up with African culture. Ladies and gentlemen, we bring you Richard Bona!"—Los Angeles Times
Richard Bona sings mostly in his native Douala, but the vulnerability of his plaintive sound is unmistakable across barriers of language. His bass solos are wildly inventive, fervently imitated and transcribed by young musicians all over the world. His tunes combine African polyrhythms, harmonic virtuosity, and a pop songwriter's gift for memorable, accessible melodies. His arrangements are almost symphonic, hypnotizing us with the unexpected colors of voices and instruments. All of this is no happy accident. For Richard Bona, the life of a musician is not a casual undertaking. He understands his job: to make us dance and laugh and cry, to help us understand ourselves and each other, to remind us that we live in an enormous universe filled with wonders, to fill us with joy. For Richard Bona, being a musician is a responsibility he's trained for all his life, a lineage he was born to fulfill.
A decade later Bona would be hired to fill the legendary bass player's shoes in Joe Zawinul's band. Throughout the 1990s Richard Bona's musicianship and virtuosity became urban legend in Paris and New York. Bona played with Afropop stars Manu Dibango and Salif Keita. He toured and recorded with Pat Metheny, Joe Zawinul, Didier Lockwood, Harry Belafonte, Quincy Jones, Herbie Hancock, Chick Corea, Steve Gadd, Michael Brecker, Randy Brecker, Chaka Khan, Jacques Higelin, Shankar Mahadevan, Tito Puente, Chucho Valdès, Mike Stern, Larry Coryell, David Sanborn, Kenny Garrett, Joe Sample, Harry Connick Jr., Raul Midon, Billy Cobham, Queen Latifah, Branford Marsalis, Bobby McFerrin, Chick Corea, and Sadao Watanabe. He released seven albums — Scenes From My Life (Columbia, 1999), Kaze Ga Kureta Melody (Sony, 2000), Reverence (Columbia Europe, 2001), Munia: The Tale (Verve 2003), Kiki (Decca, 2006), Bona Makes You Sweat (Decca, 2010), and The Ten Shades of Blues (Decca, 2010) – establishing himself as a singer-songwriter with a singular voice. His Afro-Caribbean project Toto Bona Lokua (w/Gerald Toto and Kanza Lokua, Sunnyside, 2005) and his Afro-Cuban project Mandekan Cubano weave together disparate roots, alchemizing ancient traditions into surprising new forms.
Bona's grandfather taught him early and well. Music is a language that cuts through our ordinary experience, tells us the stories we need to hear, leads us to understand who we are. Richard Bona is following in his grandfather's footsteps, the griot for our sprawling global village. In basement clubs and festival tents and grand concert halls, we gather to celebrate, dance and sing. Richard Bona's music propels us forward.
Richard Bona's new album, "Heritage," was released in June 2016 on Qwest Records/Membran.
FOLLOW RICHARD BONA
FACEBOOK: Richard Bona TWITTER: @BonaRichard
FOR BOOKINGS:
Europe:
Music Works International
info@musicworksinternational.com

France:
Anteprima Productions
reno@anteprimaproductions.com
Poland:
4 Music
joanna@4music.com.pl
US:
Addeo Music International
Asia:
JustJazz
office@justjazz.de
LATEST TRACKS:
LATEST MUSIC VIDEOS
Richard Bona at Jarasum Jazz Festival (2015) - Eye O Me (Live)

#richardbona #asantetrio LIVE for @knkx Seattle - Stream the full performance 🎵

@EllenPlaysBass on stage with me playing @MarkbassAmps in LA #ellenpkaysbass #richardbona

US Tour Continues in LA and Oakland, followed by New York in December. 👀 #richardbona #asantetrio

US Tour continues to Phoenix, AZ tonight and headed to Los Angeles tomorrow at Catalina Jazz Club.

Richard Bona presents Asante Trio - US Tour 2023

Richard Bona at Jarasum Jazz Festival (2015) - Diba La Bobe (Live)

Calm Down Bass @heisrema #richardbona #music #rema #calmdown

Ghanaians at work… Art of Groove

Richard Bona - Sweet Mary | Live Acoustic

@jarasumjazzfest I am back soon! Can't wait to see you all on Oct 9! #richardbona #music

Make Some Noise…😂 Ninja in daa hous

September 6, 2023

That time I was a TED Speaker (I mean a TED Looper) #tedtalk #ted #richardbona @TED @TEDx

Richard Bona with the Metropole Orchestra (Conductor Vince Mendoza) - 2023 - Catch us if you can!
LIVE STREAM