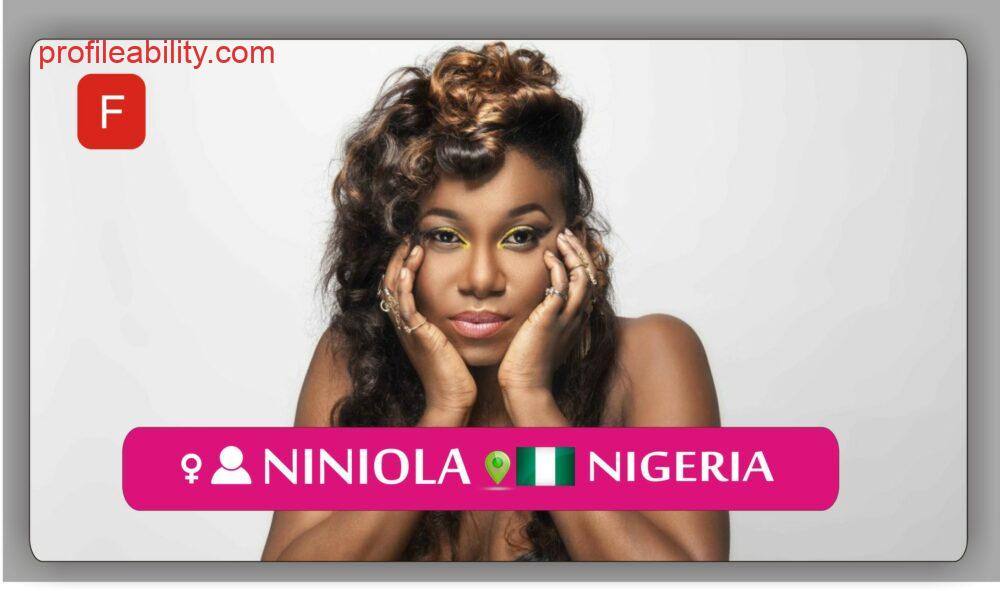 Niniola Apata aka Niniola is a singer, songwriter and performer who hails from Ekiti state. She was born on the 15th of December 1986.
Born into a family that had nothing but Love and support for each other. She went on to attend Apata Memorial School after which she went and bagged her Bachelor of Education from the University of Lagos.
Niniola fell in love with music right from when she was a kid. And in high school, she had a sort of request show during her free time where her friends will make requests and she will sing to her classmates. This was possible because of her large repertoire of songs and clear vocals…She was tagged "the human radio"…
She later joined the school cultural group and participated in social activities.
Although she's immersed herself in music and enjoyed accolades from friends and family, she wanted the world to hear her voice. Thus going to a couple of competitions thereby harnessing her singing skills.
Niniola was the 3rd Runner-Up in the MTN PROJECT FAME Competition Season 6 (2013), where she performed with the likes of KCEE and also performed her personal composition "ITURA" which was produced by COBHAMS ASUQUO…A song that was loved by everyone who heard it.
Niniola with a Vocal range that can crack glass, takes her influences, from the likes of Dolly Parton, Whitney Houston, Celine Dion, The Cranberries, Madonna, Beyoncé and Yoruba(African) music, and uses them to shape her own style…In her words "I naturally gravitate to a sound that's filled with warmth and timelessness".

And finally out with her first Official Single "IBADI" Which was produced by Sarz, A new genre she has created for herself and calls it "AFRO-HOUSE". That is a blend of afrobeat and House music, the single as we speak is getting massive airplay in Nigeria and around the continent.
After this, she released another song titled GBOWODE which she delivered in her traditional Ekiti Yoruba. Another song made waves on all radio stations and was produced by Jospo.
And she would not stop there as she delivered yet another classically done song titled AKARA OYIBO which she went on to dedicate to all Lovers Out there.
Following the successful releases of all her songs Niniola decided to continue dropping HIT songs which lead to the release of SOKE, SHABA & J'ETE
All 3 songs went on to be another fan's favourite and topped radio charts yet again..
Niniola has also worked with EDDY KENZO from Uganda. The BET AWARD Winner featured her on the remix of his HIT single MBILO MBILO.
Niniola has graced many stages since releasing her debut single and is preparing to grace more in the coming years…
PROJECTS:
ADOPT-A-CHILD'S-EDUCATION (SCHOLARSHIP PROGRAM STARTED IN 2015)
NOMINATIONS:
NEA AWARDS 2015 (MOST PROMISING ACT TO WATCH)
NIGERIAN ACHIEVERS AWARD 2015 (BEST PROMISING FEMALE ARTIST OF THE YEAR)
AFRICA YOUTH CHOICE AWARD 2015 (NEXT RATED ACT)
AFRICA YOUTH CHOICE AWARD 2015 (BEST NEW ACT MUSIC)
LAGOS FASHION AWARDS 2015 (MOST FASHIONABLE FAST RISING MUSIC STAR OF THE YEAR FEMALE)
GREEN AWARDS 2015 (MOST PROMISING FEMALE ARTIST)
SCREAM AWARDS 2015 (BEST NEW ACT FEMALE)
NEMAWARDS 2015 (FEMALE ARTIST OF THE YEAR)
NEMAWARDS 2015 (MOST POPULAR SONG OF THE YEAR "IBADI")
NIGERIAN OSCAR 2015 (MOST PROMISING ARTISTE OF THE YEAR (FEMALE))
SURULERE ENTERTAINMENT AWARDS 2015 (BEST FEMALE ARTISTE OF THE YEAR)
ACIAWARDS 2016 (NEW ARTIST OF THE YEAR)
AWARDS:
GREEN AWARDS 2015 (MOST PROMISING FEMALE ARTISTE)
I.R.P.M CLASS OF '15 UNILAG (NEXT RATED FEMALE ARTISTE)
SURULERE ENTERTAINMENT AWARDS 2015 (BEST FEMALE ARTISTE OF THE YEAR)
MUSIC ENTERTAINMENT AWARDS 2015
PERSONALITY:
Niniola is an easy-going person, fun to be with when comfortable, Likes to listen to music and sing along (as this always brightens her day). Niniola is a Christian, her style is anything classy and very comfortable.
FOLLOW NINIOLA
FACEBOOK: Niniola  TWITTER: @officialniniola INSTAGRAM: Officialniniola OFFICIAL WEBSITE: www.officialniniola.com
FOR BOOKINGS:
CONTACT: +2348167632942 , +2348137768557, +17373335281
EMAIL: naijareview@gmail.com
LATEST TRACKS:
LATEST MUSIC VIDEOS:
#Official Music videos by Niniola
LIVE STREAM