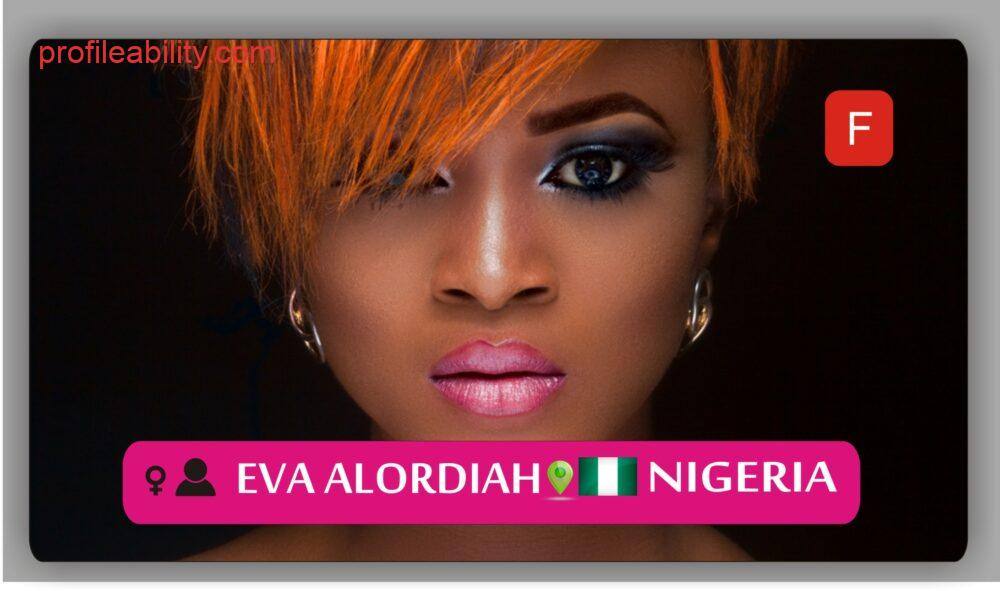 Elohor Eva Alordiah born 13th of August, better known as Eva Alordiah or simply Eva, is a Nigerian rapper, entertainer, make-up artist, fashion designer, and entrepreneur.
Born and raised in Nigeria, Eva Alordiah has found her Life's fulfillment in being a Rapper and Entertainer, the following music closely from the young age of 5. Her passion for creating music resonates with the listener, creating a vacuum that sucks them into an overwhelming experience, the kind that Eva has become famous for with her sound and direction.
She is considered one of the best female rappers in Nigeria. Since her breakthrough into the Nigerian Music Industry, Eva has garnered several awards including one Nigeria Entertainment Award from 4 nominations, one Eloy Award, and one YEM award from 2 nominations.
Music career
Eva began her Music career in 2009 when she hopped on the Lil Wayne 'a millie' instrumental. Right after the release of the song, she went fully into music head-on. Teaming up with Cartiair in 2009, she was featured on the remix of 'Owo ati Swagger' alongside Gino, Terry Tha Rapman, and the Late Dagrin.
The song which on to become nominated in several awards shows for the season including 'Best Collaboration in a Video' at the Soundcity Music Video Awards became one of the biggest songs of the year and mapped a very good path for the young female emcee.
To build a fanbase for herself, Eva began to record songs and offered them as Free music, each one with its own unique feel. Whether she was doing a cover of a previously made song, or an original, she gave it her best. With songs/singles like 'i Stay' over a Yanni original, 'Relentless' which was produced for her by T.K, and over the DJ Premier-produced song for Gangstarr of the same title, Eva has proved time and again the depth of her rap skills.
In 2011, she announced the release of her first body of work titled 'the GIGO EP' which is to be released before her debut album. Asked why she wasn't releasing a mixtape first as other rappers would, she states 'I want to give the fans an original taste of my music, original beats from me to them. This is going to be a compilation of several different me's, it's probably my only chance to be anything and everything I want to be in a compilation. Right after this, my debut album follows.' 'the GIGO EP' is said to contain songs in several genres, showcasing Eva's versatility and style.

The first singles off the project ' produced by the award-winning producer of the year Sossick and 'Down low' produced by multi-talented producer, Tintin, were released early in 2011. The songs which have gone on to become fan favorites have received massive airplay and earned Eva a top spot in the league of female rappers in Nigeria and Africa as a whole.
The 'GIGO EP'is set to be released on the 20th of November,2011. On the HiphopWold Magazine website, she was hailed as the 'Next Rated Act', with an article fully describing why she should be next rated.
Discography
Owo ati Swagger Remix – with Terry tha Rapman, Gino, Cartiair, Dagrin
I no send You Remix with Tha Suspect, Blaize, Sasha, Mocheddah, Muna, Zee
Relentless
Tonight a tribute to Late Rapper, Dagrin
The Squeeze – Cover of 'the Squeeze' by Gangstarr
6Foot7Foot – Cover of 6Foot7Foot by Lil Wayne
I stay – Cover of 'One Man's dream' by Yanni
and many more
The GIGO EP (2011)
Done Did it
Down Low
Awards and Nominations
Her collaboration in 'Owo ati Swagger' remix earned the 'Best Collaboration in A Video' award at the SMVAs 2009.
However, today, her works in Rap music have earned her her first Solo award nomination, gaining a spot in the 'Best Rap Act' category of the Nigerian Entertainment Awards [4] 2011, along with notable rappers such as M.I, Ruggedman, NaetoC and Iceprince. This not only stamps Eva just as good as the men, it also bridges a well-needed gap in how far she has come as a female rapper.
She went on to win 'Female Artist of the year in Rap' at the Exquisite Lady of the year awards 2011. Eva was also featured in the 2011 edition of the BET Hiphop Awards Cyphers, representing Nigeria along with Top notch rappers.
FOLLOW EVA ALORDIAH ON
FACEBOOK:Rapper Eva Alordiah  TWITTER:@EvaAlordiah OFFICIAL WEBSITE: www.evaalordia.com
FOR BOOKINGS:
Email: music.evaalordiah@gmail.com | music@woltrk.com
LATEST TRACKS:
Sharing is Caring: [DISPLAY_ULTIMATE_PLUS]
LATEST MUSIC VIDEOS:
#Official Music Videos by Eva Alordiah
Sharing is Caring: [DISPLAY_ULTIMATE_PLUS]
LIVE STREAM