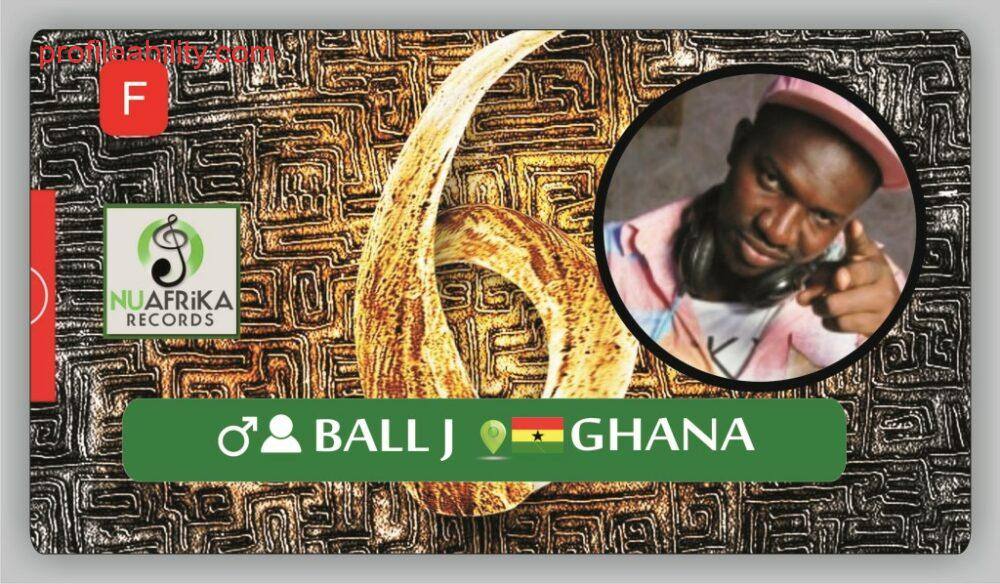 Albert Ayeh-Hanson (born November 8, 1984), known by his stage name Ball J or Ball J Beat is a Ghanaian hip hop rapper, sound engineer, record producer, and entrepreneur from Accra.
He spent most of his formative years in California–United States. Ball J is the CEO and founder of Nu Afrika Records.
Ball J was a pioneering member of the Skillions Records when it began on the campus of Presbyterian Boys' Senior High School–Legon (PRESEC). He worked tirelessly with Jayso, the label's founder and formed a genre they called GH Rap (hip hop made in Ghana).
Besides being a rapper, Ball J is also one of the best hip hop, hiplife, and azonto sound engineers in Africa with Weiyɛ Ball J Beat (this is Ball J's beat) as his signature. He was nominated for Best Producer of the year in the Ghana Music Awards 2015.
He holds a Degree in Business Management from the University of Professional Studies (UPS). Ball J is the only Ghanaian record producer on Patoranking's debut studio album "God Over Everything",] producing Patoranking; the first track on the album.
Ball J  classifies himself as a Hip hop rapper. The rapper's musical lifestyle was influenced by several artists such as Jay Z, Nas, Mase, The Notorious B.I.G and Eminem. Not only is he known in Ghana as Ball J or Ball J Beat but some also call him Ghana's Jay Z because he sounds like Jay Z when he raps. According to Ball J, he had no choice than to learn beat making since there were no particular institutions in Ghana that focused entirely on Hip hop music production to produce the kind of beats he needed as a Hip hop artist.

After School, Ball J decided to have a full-time career in music production with the aim of making Hip hop beats for himself as an artist. Around 2006, Ball J started making beats and demo records in his room with his close friends. He then formed Nu Afrika Records.
Around 2008, he decided he needed to be more serious and make masters. He then had to rely on books and seek advice from pioneers in music production such as Kwame Twum, a former bass guitarist for the legendary Kojo Antwi. He consulted Hubert who is also well acclaimed and good in sound mixing and mastering. Ball J also trained with a bass guitarists friend, who had a studio in Lapaz–Accra. All this time, he was studying the general understanding of music production such as the dynamics, compressions and mastering.
While learning the trade, he made his first professional hit "Temperature" which he featured some of his friends who were part of the Nu Afrika Records; Shao Qan, Krynkman and Screech. He had a few challenges becoming an artist and a music producer. Some of these challenges were the fact that Ghanaians were not much into Hip hop songs. Hit songs in Ghana are mostly songs you can dance to (e.g. Hiplife and Azonto), so this made it very difficult for Hip hop artist such as himself to make a hit song in Ghana.
Without forgetting about hip-hop, Ball J started fusing his hip hop style of beat-making with faster beats, which was purposely to fulfil the demands of artists coming to his studio (Nu Afrika Records). His first significant hit he produced was Kwawkese's Killa Bewu, Last Show, in 2010. After that, Ball J produced a lot of songs for both the underground and known artists, but his major milestone was Lapaz Toyota by Guru.
The song put Guru on the map in a big way and significantly improved Ball J's music studio business. As the song blew up, all kinds of artists came to Ball J in the hopes of reproducing Lapaz Toyota's success.
He then started working with artists like Kojo Antwi, Guru, Obour [the current president of the Musicians Union of Ghana (MUSIGA)], Tic Tac, Sarkodie, Kwawkese, Stay Jay, Gasmilla, Okra, Nhyiraba Kojo, Obrafour, Castro and the list goes on. Since then he has been recognized as one of the best music producers in Ghana, with songs like Lapaz Toyota, Let Me Do My Thing, Twaa Me Lala, Non-fa, Innit, Masa I Beg, Pooley, and many more as his claim to fame; making hits in Ghana and the world at large. Ball J was nominated for Best Producer of the year in the Ghana Music Awards this year.
On the 21st of December, 2012, Ball J released his first Hip hop single "All Eyes On You"from his upcoming album "Home and Away" which received a credible response and airplay from both Africa and the Western. 29 March 2013, Good Friday, saw the release of another banger, the Afrobeat/Azonto tune "Togo Bikini".
He Co-Produced Kwasese's new hit single Yakubu which features Sarkodie and he himself. "Weiyɛ Ball J Beat" (this is Ball J's beat) is his signature phrase which is now a household name.
FOLLOW BALL J.
FACEBOOK: Ball J, NU Afrika records TWITTER: @balljbeat   INSTAGRAM: balljbeat
FOR BOOKINGS:
EMAIL: balljbeat@gmail.com  TEL: 0208090702
LATEST MUSIC:
LATEST MUSIC VIDEOS:
#Official Music video by Ball J
LIVE STREAM