Add to Favorites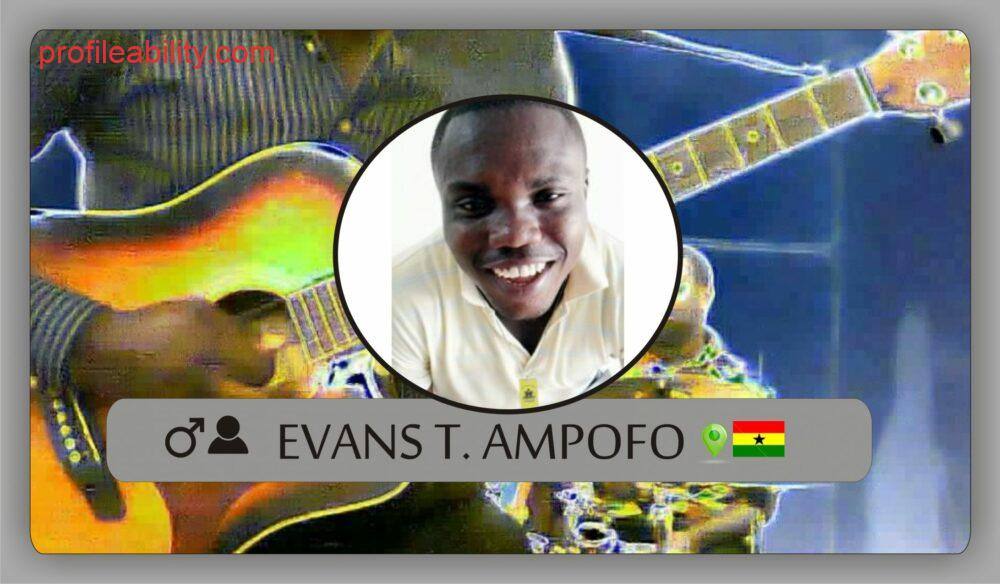 I am Twumasi Evans,a contemporary lead guitarist from Ghana,Playing guitar has been one of my greatest passion , I have been playing guitar mostly as a form of hobby and also to aid me in my song compositions.
Through playing guitar i have also acquired the skill of teaching professional guitar using rudiments and the tablature .I did gain the skill of playing the guitar at the then Calvary Charismatic Music School.
I am well versed in playing and constructing barred chords, blue soloing, pentatonic and jazz scale.I combine a wide range of chords progressions, soloing scales and arpeggio picking with chromatic in my performances.
I do contemporary song writing on timely bases. As I said i write contemporary soul and inspirational music to complement my guitar playing and skills .Though am not too good at singing but I have written a number of songs. The ability to write songs rhythmically has come to me as a gift and from then I had kept a collection of music portfolio, writing at least a song everyday.
Most at time nature influences my way of song writing and composition  and I do well to paint  them with colors thereof. I had written songs under themes like sunshine's,vegetation, birds, waterfalls, flowers, winds etc.personifying human life into them.
Currently I have written a set of  inspirational and motivational tracks, with my self titling topics below of which preview son . A few are:
keep on trying,
Self-pessimism,
why settle for less,
Take Jesus now,
Heal me,
out of the wilderness,
sunshine,
aspiring on high.
Going home,
give you all,
a life lead,
a little while,
Emmanuel etc.
I'm also inspired to write based on my clients theme and selection.

All songs that I compose has an audio rendition ( a little chopped ) performed  at a home studio.

[soundcloud url="https://api.soundcloud.com/tracks/263142044″ params="color=ff5500&auto_play=true&hide_related=false&show_comments=true&show_user=true&show_reposts=false" width="100%" height="166″ iframe="true" /]

This song is for Preview purpose only. All rights Reserved ©2013

[contact-form-7 404 "Not Found"]

For Hiring Purpose only

[contact-form-7 404 "Not Found"]
Any Comment?
comments